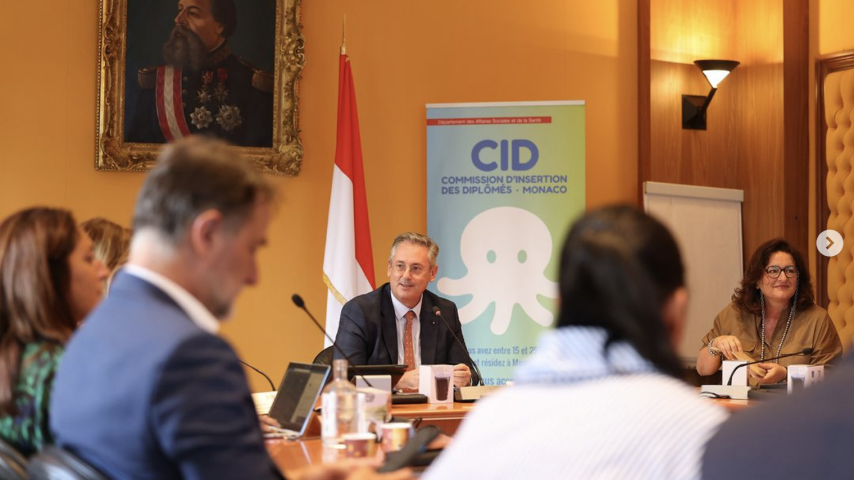 The Graduate Integration Commission (GIC) held its 13th annual meeting on July 11, under the leadership of Mr. Christophe ROBINO, the Minister of Social Affairs and Health. The gathering aimed to review the commission's activities and present its annual report for the year 2022 to its members.
On this occasion, Mr. Robino emphasized, "The Graduate Integration Commission acts as a bridge, a decoder, between two worlds that don't always speak the same language. The GIC fulfills its missions through active engagement with the young graduates, aiding in the development of their professional projects. These projects should not only integrate with their life goals but also meet the needs of local businesses."
During the meeting, an annual report for 2022 and an overview of the first half of 2023 were presented. The GIC has set the following objectives:
- To cultivate connections between higher education students, graduates, and the corporate world;
- To facilitate the professional integration of young graduates into the private and public sector;
- To aid in the repatriation of expatriate graduates to the Principality.
Furthermore, the GIC supports the professional pathways of young people right from high school, parallel to their career orientation. The goal is to harmonize the career aspirations of the youth with the expectations of Monaco's employers. The commission also partners with companies to assist them in their search for young talents.
"Inform, support, and listen."
The year 2022 marked a resurgence of dynamic social context in employment. This was evident through a significant increase in internship offers, apprenticeships, and first-time employment opportunities for young graduates.
Moreover, members had a chance to discuss the integration of Generation Z, who are profoundly transforming the work environment. They confidently voice demands that their predecessors might not have dared to express. Initially focused on the youth and their expectations, the GIC now wishes to extend its efforts towards businesses to help them understand and accommodate the unique characteristics of Generation Z and retain the young talents entering the job market.
The theme for the GIC's 2023/2024 initiatives will be "How to give meaning to your future profession." Young people today are concerned about their work-life balance and are seeking companies that have a positive impact (for instance, on the climate) and share their values (particularly regarding gender equality).
Muriel BUBBIO, Technical Advisor in charge of the GIC, stated: "The Commission commits to support both the youth in the creation of their professional projects and businesses in the integration of these young graduates seeking meaningful careers."