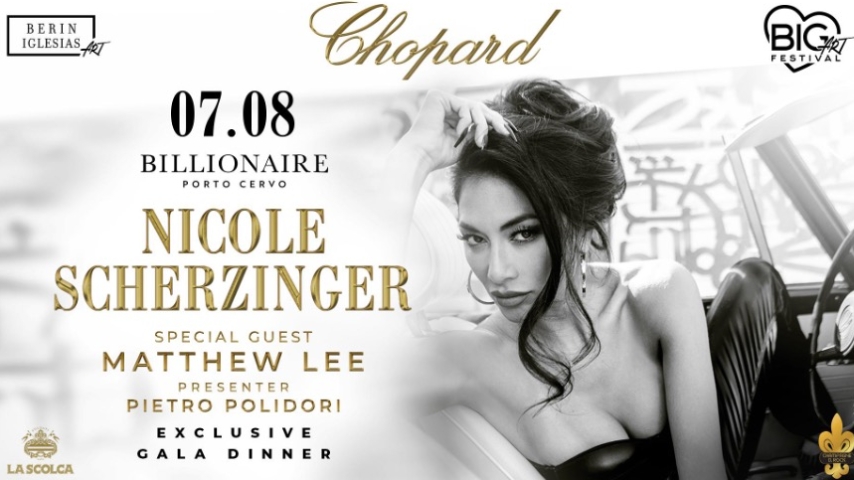 Sardinia's opulent Porto Cervo will step into the spotlight on August 7, hosting the distinguished BIG ART FESTIVAL. This luxurious gathering, under the meticulous organization of BERIN IGLESIAS ART, promises an exciting lineup featuring international sensation, Nicole Scherzinger, elevating the series of summer festivals to unprecedented levels of allure.
The BIG ART FESTIVAL has established a reputation as a peerless celebration of artistic grandeur, attracting attendees from around the globe. Its blend of celebrities, business moguls, and glitzy red carpet arrivals, captured in leading glossy magazines, adds a distinctive charm to the event.
The festival has previously been hosted in stunning locations around the globe. These include the picturesque Forte dei Marmi, the captivating island of Capri, the exclusive Yacht Club de Monaco, Turkey's D Maris Bay hotel, Courchevel's luxury ski resort, the modern Royal Atlantis hotel, and the esteemed Burj Al Arab and Armani hotel in Dubai. Stars such as Andrea Bocelli, Gipsy Kings, Seal, Jamie Cullum, HAUSER, and Andrea Griminelli have illuminated these locations with their performances.
A hallmark of the BIG ART FESTIVAL is its culinary offerings. Exquisite dishes prepared by top-notch chefs are sure to tantalize even the most refined palates, with delicacies ranging from black caviar and lobsters to a selection of fine wines and champagnes.
The red carpet remains a cherished festival tradition. Here, the glamorous attendees – celebrities, top models, and show business icons – are immortalized in the glossy pages of high-end magazines. Notable past attendees include Andrea Bocelli, Veronica Berti, Ermanno Zanini, Michele Morrone, Caroline Scheufele, Steven Seagal, John Travolta, and Nusret.
This year's Billionaire Porto Cervo, nestled in a Mediterranean-style villa overlooking the breathtaking Costa Smeralda coastline, serves as the stunning venue for the gala dinner. This celebrity hotspot promises an ideal setting for an evening brimming with glamour and sophistication.
Nicole Scherzinger, the pop icon renowned for her unique voice and magnetic stage presence, is set to dazzle the audience with an exclusive performance. Following her recent performance at Charles III's coronation at Windsor Castle, Scherzinger is expected to bring that same charisma to the festival stage.
The festival will also feature a high fashion showcase of Chopard's latest jewelry collection, an exclusive array of Tuscan wines from Sting, and the distinctive D Rock champagne. Adding a touch of local flavor, Matthew Lee, a talented Italian pianist, singer, and songwriter, is slated to provide a captivating performance.
The gala-night will be steered by multilingual event presenter, Pietro Polidori, adding to the evening's sophistication. With such a star-studded lineup and luxurious offerings, the BIG ART FESTIVAL in 2023 is slated to be an unforgettable summer event.
To secure your place, tickets are available on the website or,
WhatsApp +48 726 235622 for inquiries.
For a sneak peek into the festival, you can watch the video on youtube. Prepare to immerse yourself in a night of glamour, where music, art, and stars come together in an unforgettable celebration.