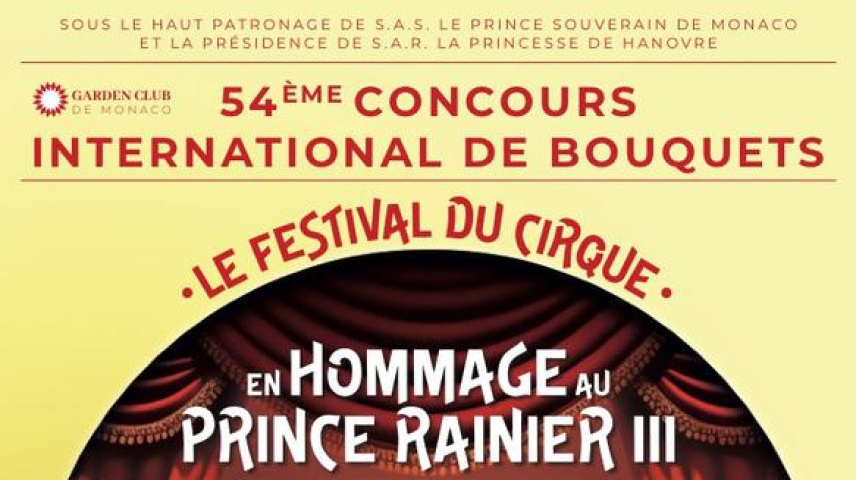 In honor of the centennial of Prince Rainier III's birth, the 54th International Bouquet Competition, set for October 7 and 8, 2023, is embracing the theme of "The Circus Festival." This annual floral extravaganza will be held under the High Patronage of H.S.H. the Sovereign Prince and the Presidency of H.R.H. the Princess of Hanover, celebrating the imaginative world of floral design at the Tunnel Riva, Quai Antoine Ier, in Monaco.
The event is organized by the Monaco Garden Club and will bring together participants from across Europe. Competitors, both amateurs and professionals, decorators, and educators, are anticipated to push the boundaries of their creativity, crafting floral compositions that are nothing short of artwork. The competition is open to all, with the exception of the "youth" category, which is exclusive to children aged between 6 to 14 years.
The competition features seven free-style categories inspired by the circus theme:
1. The Trapeze Artists
2. The Contortionists
3. The Equilibrists
4. The Magic
5. Acrobatics and Porcelain
6. Circus Animals
7. The Clowns
The presented compositions will be evaluated by two juries:
- The "special" jury, presided over by H.R.H. the Princess of Hanover and comprised of figures from the literary and artistic world, will award the Special Prizes.
- The "official" jury, including judges, professors, international authors, and Floral Art specialists, will present the Gold, Silver, and Bronze Insignia, the General Grand Prize, and the Princess Grace of Monaco Prize.
The competition will be open to the public on Saturday, October 7, from 6:00 pm to 7:30 pm, and on Sunday, October 8, from 9:30 am to 6:00 pm. Admission is free.
For more information, visit the Monaco Garden Club website or contact the International Bouquet Competition at +377 93 30 02 04 or gardenclub@monaco.mc. Don't miss the opportunity to experience the floral magic that will unfold at this unique competition.