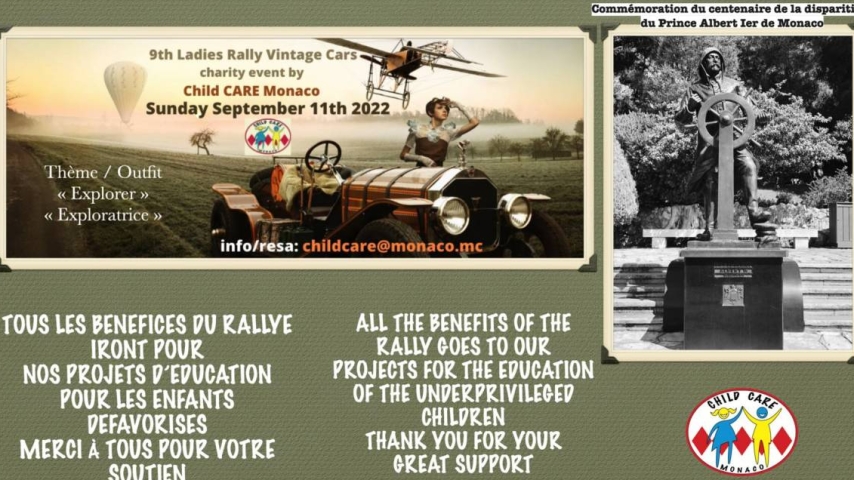 9th Ladies Rally of Vintage Cars is a charity event organized by Child Care Monaco. This bright event brings together women of different nationalities, coming from the art and business worlds for a fascinating journey along the French Riviera.
Concept
Each event has a common theme and concept, so one of the themes of last years was the world of the Wild West. The participants took an unforgettable trip along the Côte d'Azur, saw a horse show and enjoyed lunch together. The main purpose of the event is to raise a donation to build a school in India and to sponsor the education of poor areas of the country.
Ladies Vintage Rally 2022
Ladies Vintage Rally 2022 will be held on 11 September 2022. This year the theme for the event is "SteamPunk explorer" in commemoration of the centenary of the death of Prince Alnert I. Ladies will begin their day with breakfast at Café de Paris at 8:15 a.m. At 9:40 a.m. the participants will start their journey. Every year the route of the rally is kept secret.
However, the guests of the event will traditionally have lunch in an amazing place on the French Riviera and afternoon coffee. The organizers announced a special surprise visit, raffle, cocktail and the award ceremony at the Place du Palais, where the best outfit will be awarded.
About Child Care Monaco
The founder, Martine Ackermann and current president of Child Care Monaco, went on a trip around the world with her family and returned home more motivated than ever to do something. The Association Child CARE Monaco (Charity Association for the Right to Education) was founded in February 2012. Their goal is; "to promote and help the education of disadvantaged children in the world". The association is run by active and motivated volunteers believing in the same cause.
By reducing costs as much as possible, Child Care Monaco can ensure that the money raised is used to carry out our projects: 100% of the € 159 will fully cover one child's school fees, medical care, meals and clothing for one year.
All of Child CARE Monaco's efforts are focused on raising funds through the organization of charity events in the Principality of Monaco and the donations it receives from its benefactors.
So far, the association has successfully built a school for girls in India with seven classrooms, a library and a playground, helped 20 children from Center Bal Basera (Jaipur), and organized a mobile library.
All information: childcare@monaco.mc