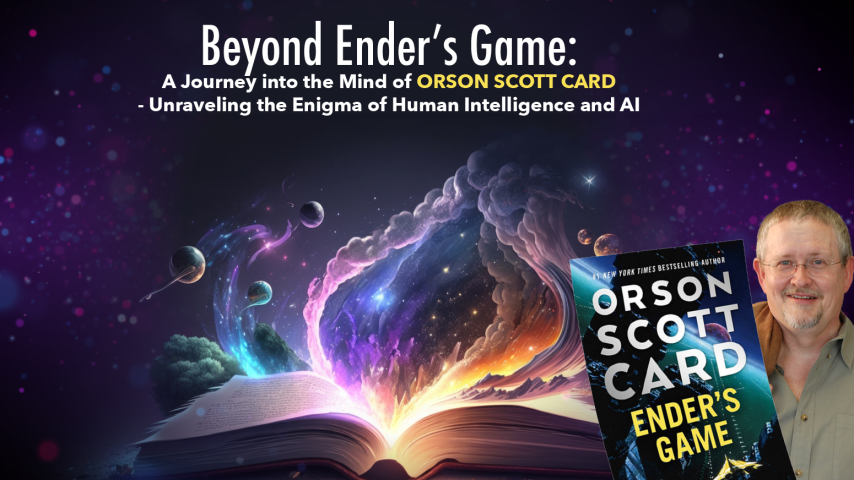 As a journalist, I have had the privilege of interviewing numerous billionaires, cryptonaires, celebrities, and global influencers from all corners of the world under both my name Dustin Plantholt and my pen name, The Count of Monte Crypto. However, none have captured my attention quite like Orson Scott Card. His groundbreaking novel, Ender's Game, introduced me to the captivating world of science fiction at the tender age of 14, and 25 years later, I remain forever impacted. Recounting my recent conversation with Mr. Card proved to be one of the most challenging assignments of my career, as his imaginative and thought-provoking works continue to inspire me, and his perspective in life remains as fascinating as it is deeply insightful. Even as a seasoned journalist, I still consider myself a student of his wisdom.
During our conversation, we delved into the nuances of human intelligence, the phenomenon of overthinking, and the hype surrounding artificial intelligence (AI). Card revealed that he initially assumed his thought patterns were common, but later uncovered the immense diversity in people's mental experiences. Nonetheless, he remains confident in the originality of his ideas, which are often considered unconventional or even groundbreaking. Scott's capacity to hold onto his convictions while maintaining a learner's mindset is truly commendable. He attributes this balance to the principle of abeyance—holding an opinion without fully embracing it until supporting evidence arises. This approach allows Card to have strong beliefs while simultaneously acknowledging that his understanding may be incomplete or subject to change.
Our dialogue grew particularly engaging when we touched upon overthinking. Card suggested that overthinking might involve drawing conclusions that lack a foundation in reality. Moreover, he theorized that the problem could arise from overclaiming, a situation where an individual extracts ideas from an initial thought and presents them as factual knowledge. This concept led us to examine the current landscape of AI. Card argues that the expectations surrounding AI stem from a fundamental misapprehension of human intelligence. He maintains that AI merely represents compliant, repetitive computer programming and is far removed from the self-aware, ego-driven entities portrayed in popular culture.
Scott referred to Elon Musk's concerns that AI could endanger humanity, stating that such worries are based on erroneous assumptions. He emphasized that AI's alleged "will to aggrandize" is a human trait not yet exhibited in machines, suggesting that the fear of AI seizing control reflects our own insecurities more than an actual risk.
As our conversation progressed, I was keen to determine whether Card was an optimist in his personal life and his views on humanity's future. Card recognized that the world will inevitably change, as it has consistently throughout history. He doesn't naively believe that everything will always work out positively, but he also trusts in humanity's ability to adapt and persevere. Card sees human intelligence as the greatest threat to our survival, rather than artificial intelligence, emphasizing that our choices will shape our fate.
Card's unwavering commitment to intellectual freedom and the power of dialogue serves as a timely reminder of the significance of understanding and respecting diverse perspectives in our increasingly polarized world. As an author and thinker, he exemplifies the value of questioning the status quo and defending one's principles, even in the face of opposition.
We further explored the concept of age and its impact on Card's life. Despite grappling with the challenges associated with being 71 years old, he continues to shine as a beacon in the world of literature. Card embodies the idea that age is merely a number, and the real value of life comes from how we choose to live it.
My interaction with Card was undeniably enlightening and invigorating, providing me with a deeper comprehension of the intricacies of human intelligence and the remarkable power of perseverance.