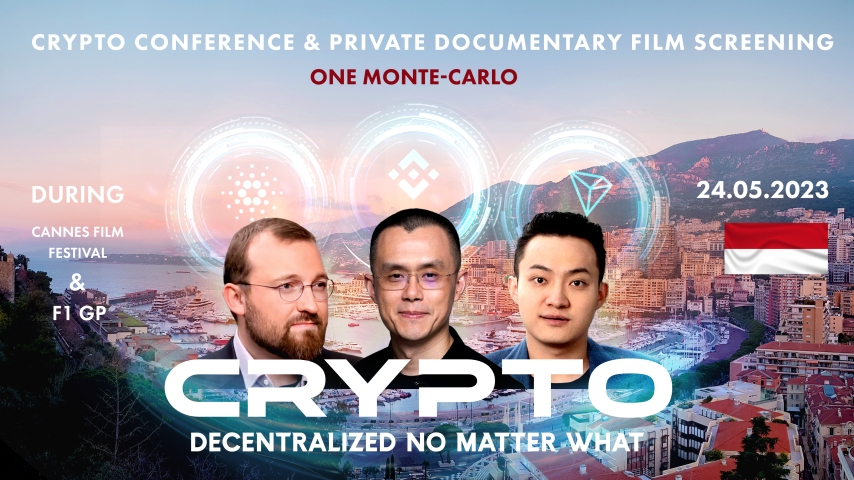 A rare spectacle is set to unfold in Monaco on May 24, 2023. One Monte-Carlo, the opulent conference center neighboring the famed Hotel de Paris and Casino, will serve as the backdrop for a ground-breaking event exploring the world of Bitcoin.

This unique occasion is the brainchild of the formidable trio - Anna Tutova and Alexander Belov, co-founders of Coinstelegram, a leading crypto media conglomerate, and Sandro Trovato, the co-Founder of DataComm and a crypto & real estate maestro.

The centerpiece of the day will be a pioneering documentary that charts Bitcoin's evolution. From its humble beginnings to its current global influence, the film offers a captivating exploration of the cryptocurrency, including exclusive interviews with industry heavyweights such as Changpeng Zhao CZ (co-founder Binance), H.E. Justin Sun (Tron DAO), Charles Hoskinson (Founder IOHK, Cardano), among others.

The event is curated with a dual intent - to coincide with the star-studded Cannes Film Festival on the nearby Cote D'Azur and to tap into the influx of global sports stars and influencers arriving for the Monaco Formula1 Grand Prix.

With attendance restricted to a coterie of 50 VIP guests, this gathering promises not just an intellectual feast but also an opportunity to network with industry vanguards. Beyond the documentary screening, the event will feature engaging speeches, a gourmet buffet, and moments of insightful conversation.

In less than a month post-release, the documentary has already made waves on YouTube, amassing over 100,000 views. Its interviews include candid conversations with renowned bloggers such as Chris Mcrypto, Carl The Moon, and notable personalities such as the President of El Salvador.

In a world where cryptocurrency is rapidly reshaping societal frameworks, this documentary offers a key to understanding its trajectory. This event is a golden opportunity to immerse oneself in the world of Bitcoin and draw from the knowledge of the industry's trailblazers.

For an invitation to this exclusive event or to explore sponsorship opportunities, reach out to agency@coinstelegram.com.
Further details can also be found on Instagram at https://instagram.com/coinstelegram?igshid=MzRlODBiNWFlZA== or via phone at +380 66 891 7994.

This article is protected under the copyright of Monaco Voice. Unauthorized reprinting, republishing, or rewriting of this content is strictly prohibited without explicit permission from Monaco Voice. Quotations from this material are permissible provided that a direct link to the full article on Monaco Voice is included.