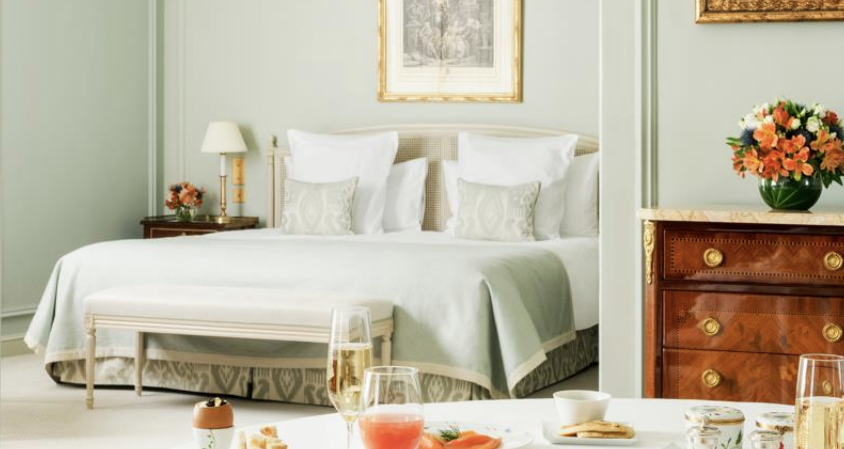 In the heart of Paris, on the rue du Faubourg Saint-Honoré, Le Bristol Paris offers an unparalleled experience for art and luxury enthusiasts. Drawing inspiration from the iconic scene where Audrey Hepburn enjoys her morning coffee in front of Tiffany's in New York, Le Bristol Paris presents its guests with a unique opportunity to have breakfast in the company of a masterpiece by none other than Pablo Picasso.
Celebrating the 50th anniversary of Picasso's passing, Le Bristol Paris, in collaboration with the Opera Gallery, has curated an intimate setting where guests can enjoy a tête-à-tête breakfast with Picasso's "Maison à Juan les Pins", a painting that captures the essence of the Mediterranean and the artist's life in 1931. The painting, which depicts the white façade, curved staircase, and olive trees of the villa Chêne-Roc where Picasso resided with his wife Olga, is a testament to the artist's love for the Côte d'Azur and its inspiring landscapes.
The breakfast itself is nothing short of exceptional. Crafted by the renowned Chef Eric Frechon, guests can savor delicacies such as soft-boiled eggs adorned with caviar grains, smoked salmon on warm blinis, freshly cut fruit platters, and champagne. This culinary experience, combined with the visual feast of Picasso's artwork, promises a morning like no other.
The painting not only evokes memories of summer evenings at the cap d'Antibes but also highlights the special bond between Picasso and the Oetker Collection. Picasso often sought inspiration and relaxation at the iconic Hôtel du Cap Eden Roc, where he painted 23 artworks, made 44 drawings, and even redesigned the menu.
Today, Picasso's spirit is brought to life at Le Bristol Paris, offering guests a chance to be inspired by the maestro himself. The exclusive "Breakfast with Picasso" package includes a one-night stay in one of the hotel's Deluxe Junior Suites and the 'Bristol' breakfast for two, starting at 3890 euros per night.
For reservations and more information, interested parties can contact Le Bristol Paris or the Opera Gallery Paris. This unique experience is a testament to the timeless allure of art and luxury, seamlessly blended to create unforgettable memories.