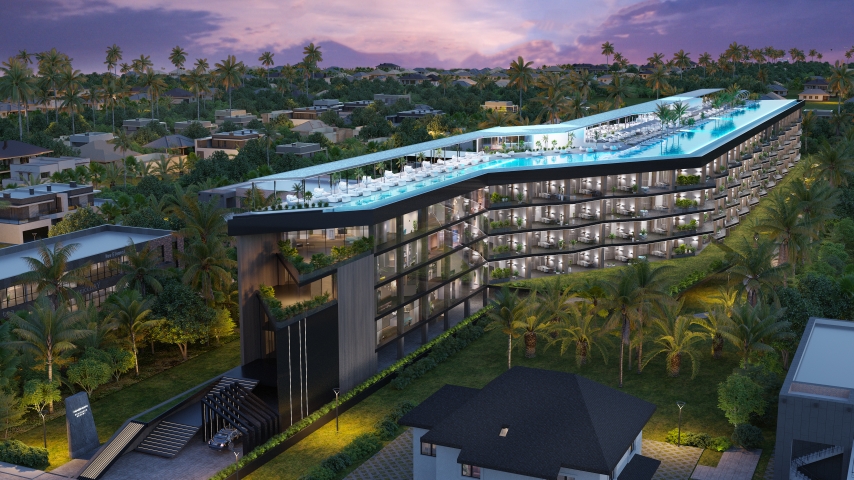 Magnum Estate, Bali's leading developer, is going to build a new flagship residential complex, Magnum Residence Berawa, featuring the world's largest rooftop pool, spanning an impressive 190 meters in length.
Magnum Residence Berawa is a four-story, high-end complex with over 150 luxurious apartments and a range of facilities for living and leisure. It's located in the coastal area of Canggu, Bali's most popular and in-demand tourist destination, just 500 meters from Berawa Beach and the island's renowned beach clubs, such as Finns and Atlas.

Certainly, the standout feature of the complex is the breathtaking rooftop lounge area, boasting the world's largest pool, stretching an impressive 190 meters in length (for comparison, the rooftop pool at Marina Bay Sands Hotel is 146 meters long). This one-of-a-kind space offers a place to unwind and relax on comfortable loungers by the impressive pool during the day. In the evening, it's always nice to savor the sunset at a chic rooftop bar with a laid-back atmosphere and a selection of refined cocktails. Thanks to its unique and aesthetically pleasing design, the rooftop of the complex is set to become a new local landmark and a hub for popular bloggers and influencers.

"The rooftop functional space is the latest architectural trend. Magnum Estate has pushed the boundaries and crafted an unparalleled project. The complex boasts its own distinctiveness, setting it apart from the typical properties in Bali," remarks Anton Petrov, Chief Architect of Magnum Residence Berawa.

The complex has been thoughtfully designed to offer all the essentials for comfortable living: spaces for both relaxation and work, a modern fitness center, a full-service spa with a range of beauty services, multiple restaurants and bars, including a fusion cuisine restaurant featuring top chefs. All of this is complemented by an unmatched level of service and comfort.

The opulent interiors gracefully combine contemporary aesthetics with practicality. The exclusive design of this new project has been created with meticulous attention to every detail. At Magnum Residence Berawa, you'll find apartments with one or two bedrooms, with a minimum area of 80 square meters. These apartments will feature a cutting-edge smart home system and offer all the hallmarks of luxury, including top-quality finishing materials, custom-made designer furniture, premium-brand appliances, and a private jacuzzi on the balcony. The apartments on the higher floors will offer breathtaking ocean views.

Magnum Residence Berawa is within walking distance of Berawa Beach, which CNN Travel ranks as the 39th best beach in the world. It's part of Bali's western coastline, which stretches over 12 kilometers. Moreover, the complex is situated in the epicenter of the island's social life, surrounded by the trendiest beach clubs, numerous cafes and restaurants, clothing stores, and entertainment options to cater to every taste.

"Magnum Residence Berawa is an ambitious, cutting-edge, and technically intricate project that requires significant resources and the collaboration of top professionals from around the globe. At the same time, we intend for the complex to be affordable and evolve into a new hub for the island's tourism development," remarks Igor Maximov, co-founder of Magnum Estate.