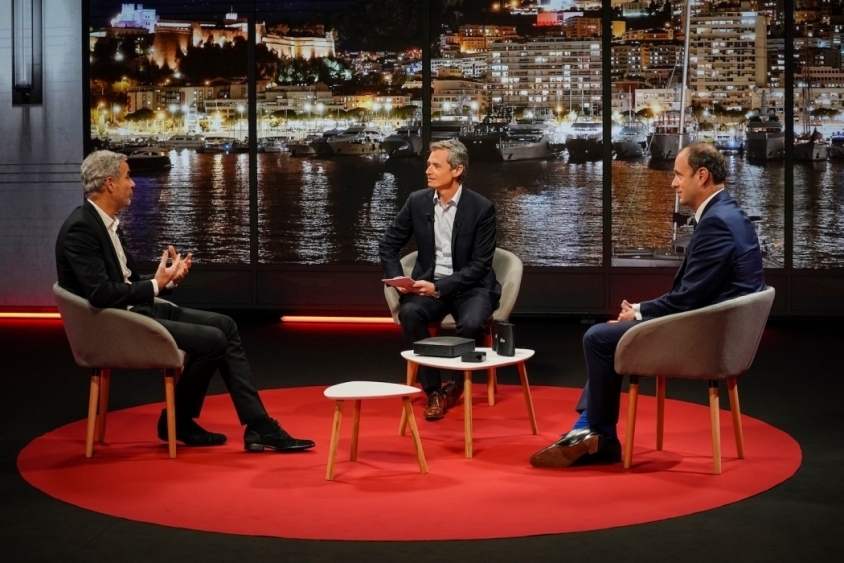 As the first country in the world to roll out 5G in July 2019, Monaco now leads Europe in another digital transition premiere. At the announcement of the sovereign cloud on September 9, 2020, Prince Albert stated, "The cloud is a foundation stone. This technology is critical for attracting investors."
As Chief Digital Officer Frédéric Genta accelerates Monaco's position as a global leader in digital infrastructure, the sovereign cloud is set to boost the country's post-Covid economy.
"There is a lot at stake," says Chief Digital Officer Frédéric Genta. "Considering how small Monaco is as a country, in the digital world we have no size constraints."
Genta, 39, worked at Google's headquarters in Mountain view, California, where he was director of retail sales in France and the U.S. "I had the full experience and was very lucky as it is an exceptional company. Everyone was extremely effective but you are a piece of the machine. On the positive side, you can be really creative but on the other hand, there is no transformation—things are so advanced that there is no place to move forward to, no vision to implement."
He adds, "I wanted to have a deeper impact. It was an opportunity of a lifetime when Prince Albert asked me to lead a group of 250 people to make Monaco an international leader in this field."
The government has invested more than €2 million in the cloud, expecting revenues from both the public and private sectors. "The cloud is a very competitive business and it will be run as such to benefit from the growth of digital transition," remarks Genta. "We want to make Monaco future proof with the cloud as an act of economic and sovereign synergy."
Token Talk
Monaco's Security Token Law, Bill No. 1491, passed in June 2020, provides the legal framework for cryptocurrency fundraising (ICO) by authorizing operations that meet certain environmental or societal criteria, through the launch of an STO (Security Token Offering) platform, proposed by Tokeny. "We are looking for mature companies who wish to raise funds between €5-€50 million. They have to be profitable or in the process of profitability," emphasizes Frédéric Genta.
The sovereign cloud has gone through a complete audit and been built in cooperation with the Monaco Cyber Security Agency (Agence Monégasque de Sécurité Numérique, AMSN) to guarantee compliance with the highest security standards. It will be based on Amazon Web Services (AWS).
"We are using a technology owned by Amazon, a world market leader who invests billions in security," explains Genta who also held senior positions at Amazon and Orange, both in Europe and the U.S. "But Amazon will not be operating the cloud."
The cloud will be managed by a Monegasque Anonymous SAM company made up of 100% Monegasque shareholders—the State holds the majority stake with Monaco Digital Services, headed by Anthony Boira, as the industrial partner and shareholder—and will store the sensitive data in the Principality, under Monegasque law and with a validated level of security, under the supervision of AMSN.
As Genta points out, in a country measuring two square kilometers, the State has a responsibility to take into account the risks of earthquakes or cyberattacks which could result in the partial or total loss of data and disruption to public services. "Security standards recommend a distance of 120 kilometers between two storage locations. This is why we have been working with Luxembourg on establishing secure data hosting that fully guarantees immunity and privileges similar to those offered by a physical embassy. This means creating a digital twin via an e-embassy. The data center which would provide this extraterritorial hosting meets the highest Tier 4 security standards and stores data for NATO and the European Union."
According to Extended Monaco—the program launched in 2019 "with the aim of making digital technology the basis of all public policies by digitizing in particular public services and the health sector"—last year individuals generated 1.7 megabytes of data per second and the volume of data worldwide doubles every three years, so storage is a big issue.
Genta, a Harvard Business School MBA grad, says, "In the digital age, we need our immense amount of data to be under Monaco's control. We also have to be able to off er our companies and the State a completely safe structure for digital resources.
"The Monegasque sovereign cloud will serve as the basis for the development and creation of new digital services in the Principality, including those related to smart city, e-health, e-education and e-government," comments Genta, a Monegasque.
In Monaco, where the digital economy represents 5% of the country's GDP, priority has been given to two sectors: proptech and yacht technology.
With an initial endowment of €20 million, Monaco's Blue Fund was set up from January 2021 to accelerate the country's economic transformation by training and equipping businesses. It will be jointly governed by the Department of Finance and the Economy and the Interministerial Delegation in charge of the digital transition.
"The goal is to enable traditional businesses to go digital. A digitized company achieves 10% more turnover and 25% more margin," Genta reveals. "Corporations have their own infrastructure but it is not as secure. The majority of companies migrating to the sovereign cloud will have 50% to 70% of their transition subsidized by the Blue Fund.
Fiber Boost
Chief Digital Officer Frédéric Genta told Monaco Info (above) on March 1 that by the end of the year "85% of Monegasques will have access to the fastest fi ber in the world." As part of Monaco's digital transition, which includes the launch of 5G in 2019 and the sovereign cloud which is currently being tested, optical fiber has now been laid underground across the country. "Fiber is a foundation of our digital power capability," Genta said.
The new technology— available to eligible residents but not to businesses until June—is 10 times faster with the Wifi 6 box than the current coax technology. "Fiber is a real asset in a Covid and post-Covid world. Residents will have better TV and better Wifi, which responds to the needs of working from home, video conferencing and performance." "Once Monegasque companies digitize their activities in all sectors in order to develop e-commerce and integrate digital payments, the next challenge will be for these businesses to be trained and supported in this transition to benefi t from it properly."
There are currently more than 2,000 jobs in Monaco related to digital with 100 companies that are working in digital transition. "The world is moving fast, the sooner on the cloud the better you are because the world post Covid economy will need a lot of data."
The Monaco government will be the fi rst client to start using the sovereign cloud June 2021. By July, the fi rst private clients and corporations will have access, with 50 to 60 Monegasque corporate clients on board by the end of the year.
E-services that already exist, like smart city, will migrate to the cloud from 2022. And while from summer 2021, every Monegasque national and resident will have a digital identity linked to their new identity card or residence permit enabling highly secure and simple authentication for streamlined online access to various administrative procedures, the data will not be transferred to the cloud until 2022.
For Monaco's green-thinking prince, this is more than just enticing new business with the country's cutting-edge technological infrastructures. "Our cloud will be consistent with our environmental targets," Prince Albert commented. With a goal of having a carbon neutral county by 2050, the cloud uses much less energy than large server rooms requiring cool storage temperatures.
"More than ever, digital technology has become a strategic and critical issue for each country," said Prince Albert, who is "helping my country to write a new page and become a model country in terms of digital."
Fréderic Genta agrees. "Working at Google, every other person is a Harvard or Yale grad but in Monaco, I work with diverse people from the education, health, economic and security sectors. Everyone loves their country and that is what motivates them.
"For me, it is not about making Google's stock gain 1% by the end of the year, but to make sure my daughter can have a great career in Monaco and that the country keeps its extraordinary leadership."