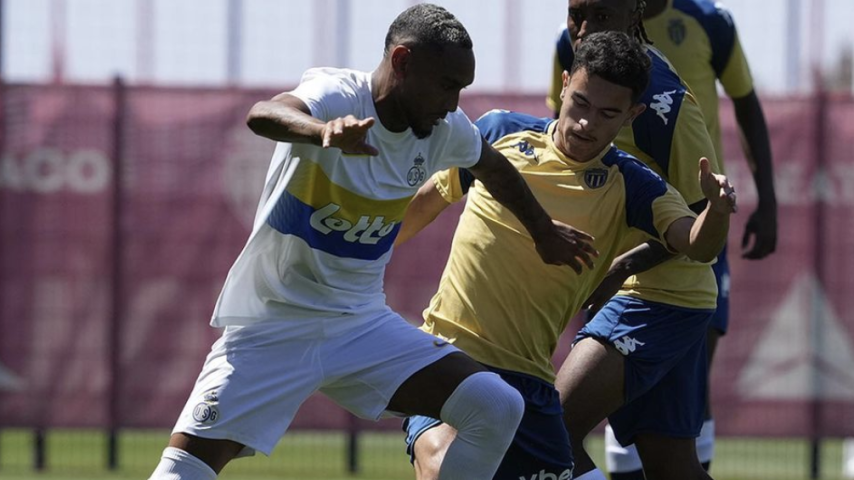 On Sunday, July 9th, AS Monaco, under the leadership of their new coach Adi Hütter, demonstrated determination in a heated match against the formidable Belgian team, Union Saint-Gilloise. The rejuvenated squad exhibited a commendable performance, eventually securing a 1-1 draw in what was Hütter's debut on the Monegasque bench.
Coach Adi Hütter started his tenure by fielding a youthful team, organized in a 4-2-3-1 formation. The starting lineup featured several Elite Group members, including Ritchy Valme, Antonin Cartillier, and Mamadou Coulibaly. The attack, however, was laden with experience, showcasing the likes of Aleksandr Golovin, Takumi Minamino, and Wissam Ben Yedder.
The 'Red and Whites' started the match on the front foot, implementing a high-pressing tactic right off the bat. This strategy allowed them to recover multiple balls in the Belgian team's half, and they came close to opening the scoring in the 14th minute, only to be blocked in the nick of time.
Despite a strong start by Monaco, the Belgian side answered back with a couple of close calls before the first half's conclusion. Victor Boniface capitalized on a long ball just before halftime, going one-on-one against Monaco's goalkeeper, Radoslaw Majecki, to break the deadlock (42nd minute).
Upon resumption, Hütter made sweeping changes to the Monaco lineup, which included the professional debut of Mayssam Benama. Emulating their first-half performance, Monaco began the second period on a strong note. Gelson Martins' cross-shot was narrowly diverted by the Belgian goalkeeper, Joachim Imbrechts, in the 48th minute.
Finally, Martins' persistent efforts paid off in the 74th minute, marking the first goal of the season. Initiating the play from their 25-yard line, Benama found Malamine Efekele on the left, who then fed Kevin Volland inside the box. Volland's cross found Martins at the far post, who subsequently equalized with a right-footed finish.
Following the equalizer, both teams pushed forward in an attempt to break the stalemate. A late surge by Union Saint-Gilloise saw them close to scoring, but goalkeeper Yann Lienard superbly denied Gustaf Nilsson in the 92nd minute.
The encounter ended on this note, marking AS Monaco's first preparatory match of the season with a 1-1 draw. The team is scheduled to face Cercle Bruges next Saturday.
Overall, it was a game filled with notable moments and plenty of lessons for the young Monaco squad. Adi Hütter commended the performance of his team, especially impressed by their execution of what they had been working on during the week's training sessions. The coach acknowledged that errors were made but noted that it was normal for the first match of the season. He expressed satisfaction with his team's overall display, hinting at the positive direction the team is moving in.