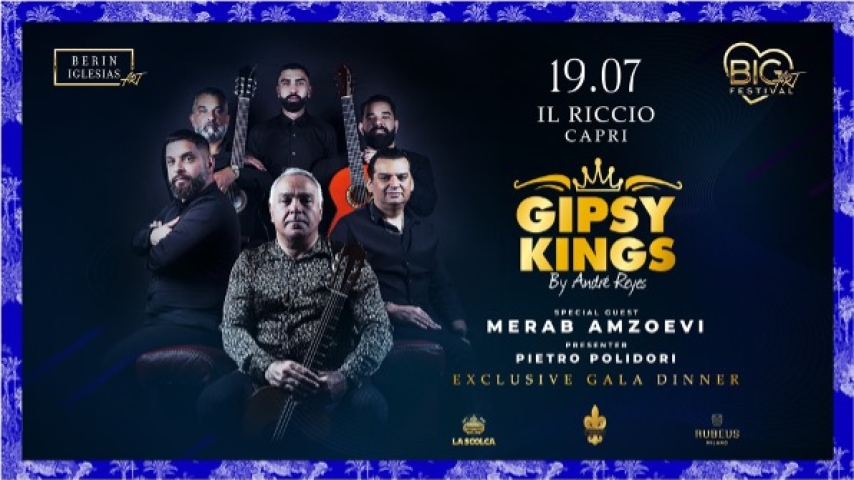 On July 19, the island of Capri will spring to life with the grand opening of the summer season of the BIG ART FESTIVAL, set to take place at the glamorous Il Riccio Restaurant & Beach Club. The event will be further enhanced by a fiery performance by the Gipsy Kings, celebrated musicians, and icons of vibrant flamenco.
The festival, an initiative by BERIN IGLESIAS ART, a leading event agency in Europe, promises an unmatched and exclusive experience that has become a worldwide phenomenon. The event has gained significant traction among international celebrities and leading business figures, often featuring in major international glossy magazines.
The BIG ART FESTIVAL prides itself on selecting iconic locations such as the stunning landscapes of Forte dei Marmi, the natural beauties of Capri, the elitist Yacht Club de Monaco, the magnificent D Maris Bay hotel in Turkey, the luxurious Courchevel ski resort, the new Royal Atlantis hotel, and the famous Burj Al Arab and Armani hotel in Dubai.
The festival has a history of hosting performances by top artists and musicians like Andrea Bocelli, Nicole Scherzinger, Seal, Jamie Cullum, HAUSER, Andrea Griminelli, among others. The 2023 Gala will also feature a special performance by Merab Amzoevi, a popular Georgian self-made singer, musician, and cover artist known for his unique voice and style. The event will be presented by the renowned international showman, Pietro Polidori.
An integral part of the festival is the haute cuisine menu, designed by top-tier hotel chefs. With offerings ranging from black caviar and champagne to lobsters, the culinary delights are indeed an indispensable part of every BIG ART FESTIVAL gala night.
An elegant tradition of the festival is the red carpet walk, featuring celebrities, top models, fashion, and show-business icons, all capturing the attention of glossy magazines' photographers. The festival has also served as a high-level networking platform, attracting influential business people and entrepreneurs.
Hosting the gala night, Il Riccio Restaurant & Beach Club in Anacapri has been one of Capri's most exclusive dining spots since 2009. Its stunning location, chic Mediterranean-style interiors, and top-notch cuisine make it one of the leading dining establishments on the island. The gala night will commence with a welcome cocktail on the Sea Lounge terrace, followed by a gourmet dinner paired with fine wines.
The night will reach a climax with the performance by the legendary Gipsy Kings, globally renowned for their energetic and colorful flamenco. Their hits like Bamboléo, Volare, Djobi Djoba, Un amour will undoubtedly get the guests up on their feet.
Mark your calendars for the most sought-after gala night of summer 2023, and immerse yourself in the breathtaking natural beauty of the island of Capri. For a preview of what's to come, you can watch the video on youtube.
Tickets are available on the website
For any inquiries please reach out through WhatsApp: +48 726 235622 or by message.