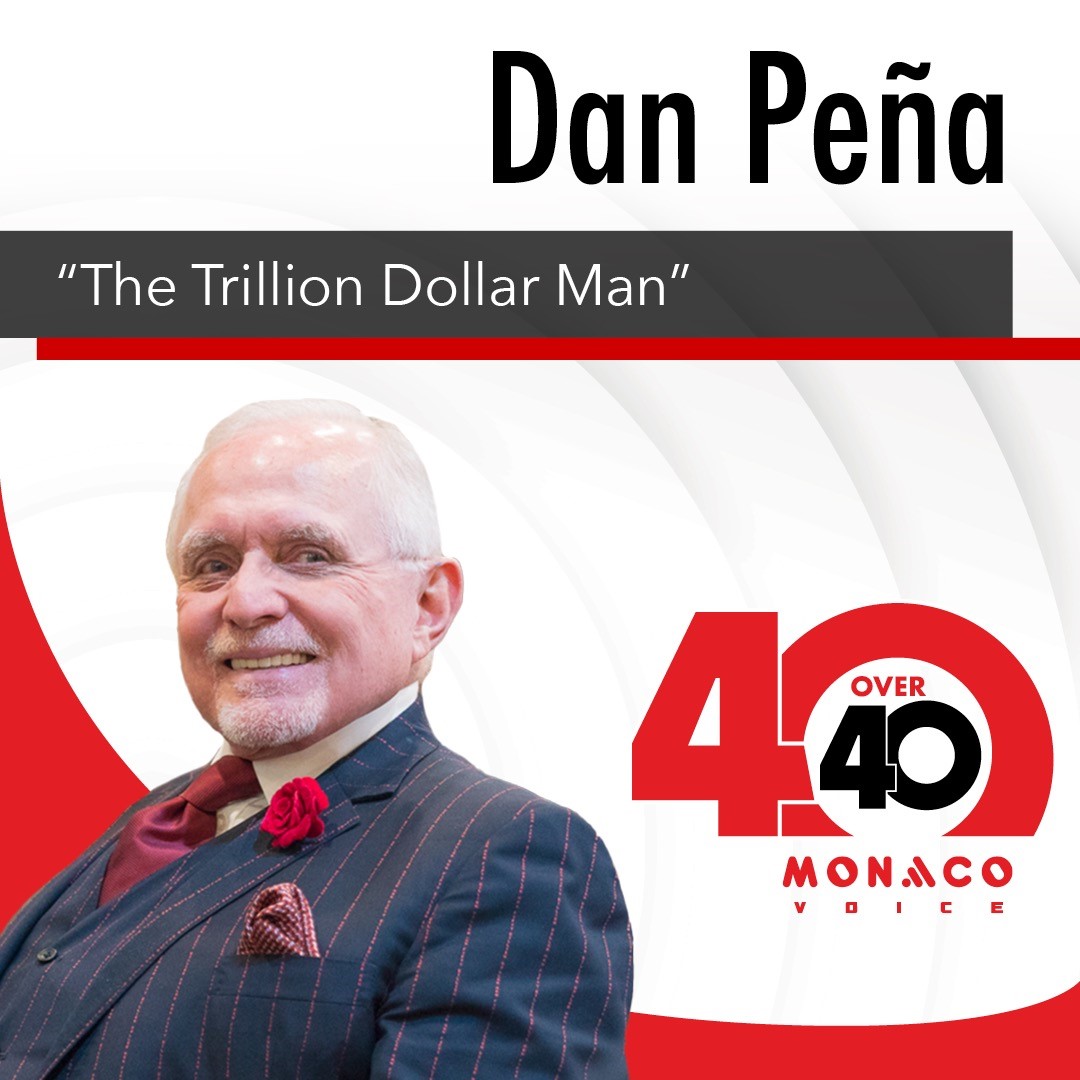 Dan Peña, a name that resonates with authority and admiration, has left a profound impact on countless individuals across the globe. His monumental journey encapsulates a tale of steadfast resilience, remarkable adaptability, and an undeterred pursuit of success. Born on August 10, 1945, in Jacksonville, Florida, Peña's odyssey from the humble enclaves of East Los Angeles to the summit of international business is an extraordinary saga. This narrative, woven with the threads of determination and triumph, has rightfully garnered him the enduring respect and adulation of audiences worldwide. It is this spirit of perseverance and accomplishment that makes us thrilled to include him in the esteemed Monaco 40 over 40 list.
Peña's entrepreneurial journey started modestly, with just $820 USD in his pocket. In an astonishing display of determination and strategic acumen, he achieved the remarkable feat of escalating his business to a market value of $500 million on the London Stock Exchange. This feat was accomplished in a short span of just eight years, a period that predates the boom of internet valuations. This extraordinary achievement further cements Peña's status as a titan of industry and stands as a testament to his unwavering commitment to success.
As the privileged editor-in-chief chronicling this awe-inspiring individual's journey, I am honored to bestow upon him the prestigious Monaco 40 over 40 title. Peña's wisdom and mentorship through the Quantum Leap Advantage (QLA) program have played a significant role in shaping my own professional journey. His invaluable insights and teachings have guided my decision-making and strategic vision. Peña's profound mantra, "success leaves clues," has reverberated around the world, leaving an indelible mark on aspiring entrepreneurs everywhere.
Despite his propensity for outspokenness and disregard for political correctness, Peña's immense inspiration resonates with millions who have found empowerment in his business advice. His acts of generosity are unparalleled, exemplified by the countless free online master classes he provides. Peña's commitment to the success and fulfillment of others transcends their own aspirations, making him a beacon of inspiration and guidance. His famed Peñaisms, most notably the phrase, "show me your friends and I'll show you your future," exemplify the profound insight he offers to those in business who seek a path of guidance. Peña's leadership focuses not on accumulating followers, but on nurturing future leaders and equipping them with the skills to seize opportunities in an ever-changing landscape.
Peña's childhood was a crucible of hardship, shaping him into a man of resilience and determination. Growing up amidst crime and violence, he absorbed the stern lessons of life from his father, a Lieutenant Commander in the LAPD and a decorated military veteran, of WWII and the Korean war! This background laid the foundation for Peña's high-performance persona, earning him the moniker of 'The Trillion-Dollar Man.'
His remarkable career took flight with a laudable tenure in the military, selflessly volunteering for the draft during the peak of the Vietnam war, and rising to the rank of an officer. His post-military journey saw him expedite his education, accomplishing a four-year degree with flying colors in just two and a half years! Following this, Peña effortlessly navigated from the disciplined world of the military to the scholastic sphere of university, and then into the vibrant arena of sports, gathering a collection of esteemed honors and recognitions along the way. Nevertheless, these ventures into sports served merely as significant milestones in his awe-inspiring journey.
In 2021, Peña exemplified his profound dedication to the communities that span both sides of the Atlantic, by becoming a dual citizen of the UK and the US. Amidst his rigorous worldwide business ventures and philanthropic pursuits, he still carves out time to cultivate the leaders of tomorrow at his distinguished QLA high-performance executive business success seminars. These sessions, enriched with his wisdom and insights, are conducted within the historic walls of his enchanting 15th-century castle in Scotland, further amplifying the transformative experience.
Peña's altruistic endeavors radiate beyond the realm of business. His generosity has notably impacted organizations like the Holy Family Home Makati Foundation in the Philippines and Saint Teresa Orphanages, along with a plethora of charities globally. His influence is boundless, reaching the most remote corners of the world.
As a compelling speaker, Peña has made a lasting impression on audiences worldwide, dispensing his wisdom through his characteristic method of offering tough love. His book, "Your First Hundred Million," coupled with his magnetic YouTube channel and thought-provoking podcast, remain conduits for disseminating his invaluable insights. His exceptional communication skills earned him the distinguished Telly Award in 2017, showcasing his communication mastery.
Balancing a array of commitments, Peña navigates seamlessly between his professional ventures and family obligations. Alongside his wife, Sally, he traverses the globe, savoring the world's diversity. Meanwhile, his bonds with his adult children, Kelly, Derrick, and Danny, continue to flourish as they carve their unique paths in the US.
The saga of Dan Peña, aptly known as "The Trillion-Dollar Man," is an everlasting narrative of grit and victory. His ascension from the modest neighborhoods of East Los Angeles to the apex of international business epitomizes the core values of the esteemed Monaco 40 over 40 award. The bedrock of Peña's success lies in his tenacious spirit and unparalleled achievements, which have sculpted him into a shining beacon of accomplishment. His influence extends far and wide, lighting the way for the next wave of global entrepreneurs and instilling in them the courage to transform adversities into opportunities and to etch their own marks on the canvas of success.