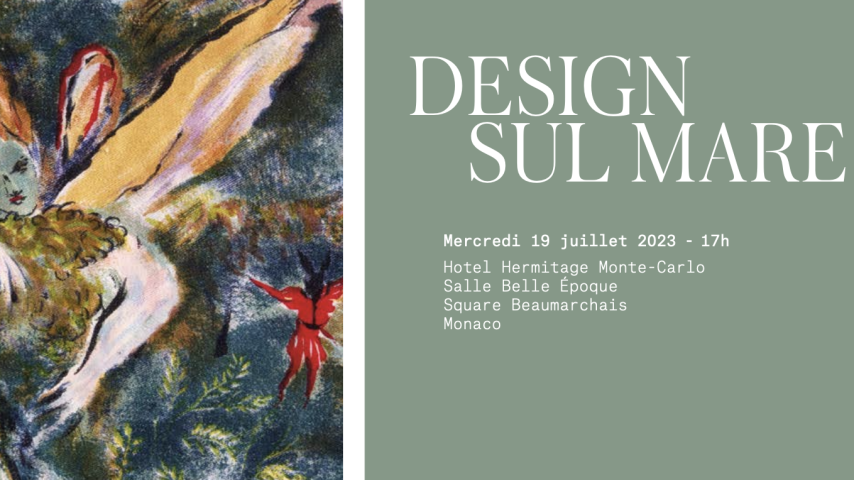 The sun-dappled streets of Monaco, a global beacon of luxury and sophistication, prepare to host a unique celebration this summer. Slated for July 19, 2023, the distinguished "Design Sul Mare" event unfolds at the Hotel Hermitage Monte-Carlo, spotlighting a private Monegasque collection brimming with quintessential Italian designs.
Artcurial, a prominent auction house, is set to unveil over 90 historical design pieces crafted by eminent architects and designers. Among them, the works of luminaries such as Gio Ponti, Gino Sarfatti, Fausto Melotti, and Gabriella Crespi will take center stage. The event also spotlights exclusive pieces by the Campana brothers, including the extraordinary Settimio cabinet, an epitome of their craft housed in Paris's Musée des Arts Décoratifs.
The narrative behind "Design Sul Mare" is as captivating as the event itself. The collection owes its inception to the mutual passion of two women, Céline and Rossella Peruzzi, who met in 2005. They both owned apartments in the historic Villaggio Olimpico, a testament to Italian architectural genius built for the Rome Olympics in the '60s. Rossella, a trailblazer, had launched "Babuino 900", the first 50s furniture gallery in Rome, paving the way for a new design trend. Their friendship solidified their mutual admiration for Italian design, leading to the creation of this impressive collection.
Among the collection's highlights are a chandelier adorned with 30 luminous glass spheres by Gino Sarfatti, an exquisite vase by Fausto Melotti, and a rare salon by Ico Parisi. Additionally, it features a 1930s emerald-green mirror by Carlo Scarpa and a smoked glass ceiling lamp by Vittorio Zecchin.
The event also gives attendees a glimpse of Céline's residence, the "Villa Imagine". Inspired by John Lennon's song, it is a modern, concrete abode surrounded by expansive windows. It commands a breathtaking view over Roquebrune-Cap-Martin's bay, with nothing but the sky above. This magical space has been a source of inspiration for artists from Picasso to Matisse, from Chagall to Cocteau, from Le Corbusier to Eileen Gray, all captivated by the region's unique light.
When Céline relocated to the French Riviera, her collector's soul remained undiminished. She invited Fernando and Humberto Campana to showcase their "Brazilian Baroque" collection in Monaco. Johanna Grawunder, the "queen of light", and Francesco Santo Chirico created pieces specifically for the venue, with Santo Chirico designing Cubi side tables as a tribute to Gabriella Crespi.
One of the crowning features is an unseen sculpture by Gio Ponti, representing an angel, initially created for the Los Angeles Cathedral. The artwork will be up for auction on July 18, 2023, symbolically paying tribute to the Principality's official religion and to Gio Ponti, the visionary behind Monaco's renowned Roccabella building.
In essence, "Design Sul Mare" is more than an auction or an event. It is a grand celebration of Italian design, solidifying Monaco's standing as a worldwide epicenter for art and culture. Whether you're a design aficionado, a collector, or simply an admirer of aesthetic creations, "Design Sul Mare" promises to be an unmissable affair. Through this event, the passion of Céline and her deep connection with the Italian aesthetic comes to life, offering an unforgettable journey into the heart of Italian design.