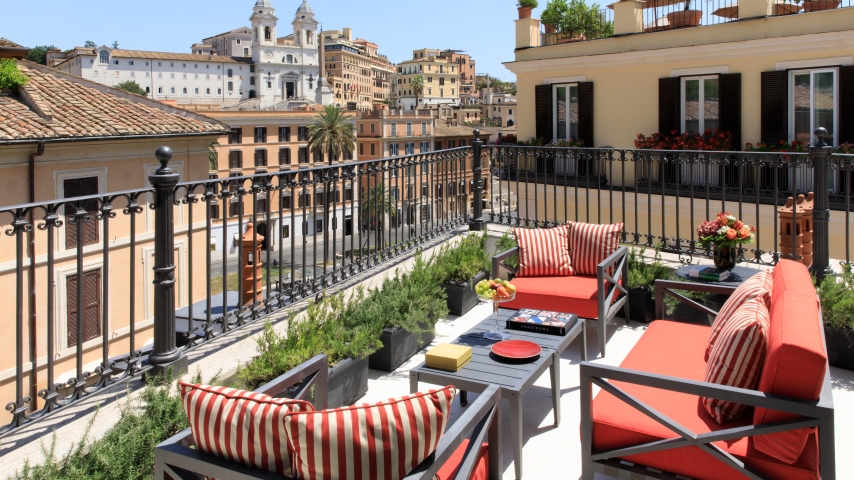 Introducing the Rocco Forte House - an embodiment of refined opulence tucked away in the historical heart of Rome. It's the perfect choice for discerning travelers seeking an exclusive retreat that seamlessly merges the privacy and intimacy of a private home with the superior quality and service attributed to the Rocco Forte brand.
Strategically situated in the lively Piazza di Spagna, the Rocco Forte House is housed within an illustrious 18th-century palazzo. This majestic edifice features five palatial private apartments, each one a testament to timeless elegance and luxury. Designed with an unwavering attention to detail by the esteemed Tommaso Ziffer, these apartments are adorned with tasteful decor, harmonizing traditional Roman aesthetic with contemporary comfort.
Commanding an impressive view over the legendary Spanish Steps is the grand rooftop terrace. From this serene sanctuary, guests can appreciate the captivating panorama of Rome in all its historic grandeur and modern vibrancy. It's an ideal spot to unwind with a glass of fine Italian wine, savoring the magnificent vista as day turns into night.
In this opulent abode, a dedicated house manager is always at your service, ensuring every moment of your stay surpasses expectation. They'll cater to your every need, from bespoke travel arrangements to personalized culinary preferences, cultivating a home-away-from-home atmosphere steeped in luxury.
Your privileges as a guest at the Rocco Forte House, however, extend beyond the confines of the palazzo. You'll have unfettered access to the world-class amenities of the neighboring Hotel de la Ville. Immerse yourself in tranquility at the premium spa, meet fellow connoisseurs at the sophisticated bars, or treat your palate to gastronomic wonders at Fulvio Pierangelini's renowned restaurants. It's a complete immersion into a luxurious lifestyle, as you enjoy every facet of what the Rocco Forte brand has to offer.
The Rocco Forte House represents a novel approach to luxury hospitality, perfectly blending Rocco Forte's rich Italian heritage with a contemporary understanding of bespoke luxury. It's an invitation to experience Roman living at its finest - grand, tastefully adorned, and unforgettable.
As you walk through the ornate halls, explore the bustling piazzas, or simply relax on the terrace overlooking the city, you'll be living a unique chapter of Rome's rich history. This is more than just a stay. It's an opportunity to live a Roman dream—elegant, refined, and utterly captivating. This is the Rocco Forte House - the pinnacle of elegance and sophistication in the Eternal City.