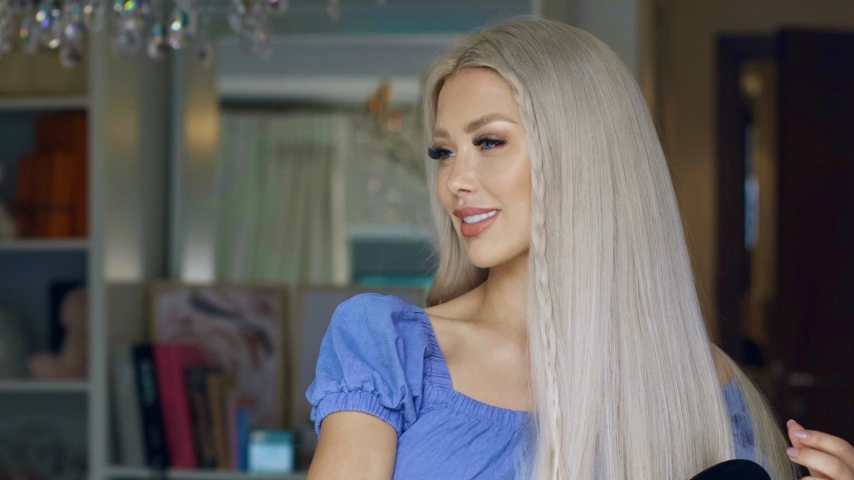 Fashion Model Sara Nilsen's Brush With Disaster On The Paris Catwalk Has Led Her To Produce A Revolutionary New Hair Product.
Norway-born Sara, 30, will never forget the modelling assignment that ruined her hair – but more than 20 years on she is hoping the experience will earn her success in the multi-billion-pound beauty market here in the UK.
"I was traumatised by what happened to me in Paris," says Sara. "I went through 12 different chemical treatments within days: blonde to light brunette, to blonde again, to bronze highlights and worse.
"It destroyed my hair and I totally regret it, but it made me care more for my hair, which had always been down to my bum before that.
"Nevertheless, it wasn't until about four years ago that it regained the health I lost. In the process, I tried many hairbrushes, from £1 to £250 and realised money doesn't always buy you the best.
"One brush came close to what I needed, but was ridiculously expensive at around £200, without the luxury feel you would expect.
"I wanted to create something as effective and environmentally friendly as possible and that arrived with the wow factor and excitement of a box containing a new iPhone!
"But I found a big gap between identifying what I wanted and creating it. I went through so many prototypes and a lot of self-testing.
"Fortunately, I was blessed with good contacts in Hong Kong and visited the Canton Fair (China Import and Export Fair). It's huge and where many products are shown, contacts made, and new products born."
Now Sara is confident her Msmissy (correct) brand will scale the heights achieved by visionaries like Body Shop founder Anita Roddick after finally creating a brush that meets her expectations, with quality enhanced by boar bristles and an ergonomic wooden handle.
She explains: "I've called my innovative hair brush Ms Proper and I am confident it is the best hairbrush for all hair types – thick, thin, curly or wavy as well as hair extensions. The technology behind the brush gets rid of knots in a gentle way while stimulating the blood circulation and ensuring natural oils are distributed along your hair strands, which again encourages hair growth.
"I am also introducing my Ms Tidy, a cleaning comb that fits perfectly with Ms Proper and will help remove any hair that's trapped in your hairbrush, something that should be done at least once a week to keep bacteria out."
There was a soft launch of both products in Norway in 2021, but now Sara is focusing on the much bigger markets in the UK and America.
Now the Ms Proper hairbrush is available in the UK (with free delivery) for £39 and can be bought together with the Ms Tidy hairbrush cleaner for £43. The latter can be purchased separately for £6.
Sara, whose loves visiting Monaco, New York, Paris and Dubai, adds: "There are just 5.5 million people in Norway, against the UK's 65-plus million, and more than 334 million in America. The beauty market is huge and I am looking into other treatments and products for damaged hair.
"I've had lots of compliments about my hair in the UK, but women here often have their hair over-processed and, like many countries, the chlorine added to keep drinking water safe is not good for the hair or the scalp.
"I want to help women and girls discover and reveal their inner beauty so that they can lead confident, productive lives. My hair brush is the first step on the road towards that goal."
Sara was born and grew up near the small Norwegian city of Kristiansund, halfway along Norway's western coastline:
"It's very rural, but launched me as an entrepreneur when I started buying and selling horses at 14, as my mum ran a riding school at our farm.
"I never spent much on clothes. I just wanted to travel, and an early treat was flying to St Tropez at 16, booking a table in a fancy hotel, and ordering champagne."
Travel has given her business contacts and friends all over the world, with frequent destinations including New York, Malaysia, Hong Kong, and Singapore and good language skills, even including "a smattering of Arabic".
She also lived in the Dominican Republic for a time and, as Miss Multiverse Norway, took part in the Miss Multiverse and Miss Metaverse reality shows in 2021 – contests that require brains and fitness as well as beauty.
One of the challenges was charity fund-raising and, in her case, building a school in that country.
"But it was super-hot there," she says. "And one of the toughest experiences I've ever had, so I'm proud to have come second in the fitness section. I probably would have won if a pig hadn't damaged my leg!"
This is a modest assessment by Sara: the pig actually sank its teeth deep into her thigh and necessitated an operation, but it hasn't affected her fitness regime, which includes horse riding and snowboarding.
Sara has a further string to her bow: while polishing her entrepreneurial skills through horse trading, she also became active in local politics and was proud to help launch a scheme for free schoolbooks across the whole of Norway.
For now, Sara is excited for the future of her breakthrough beauty product and is confident her new super brush certainly won't be a case of hair today and gone tomorrow!