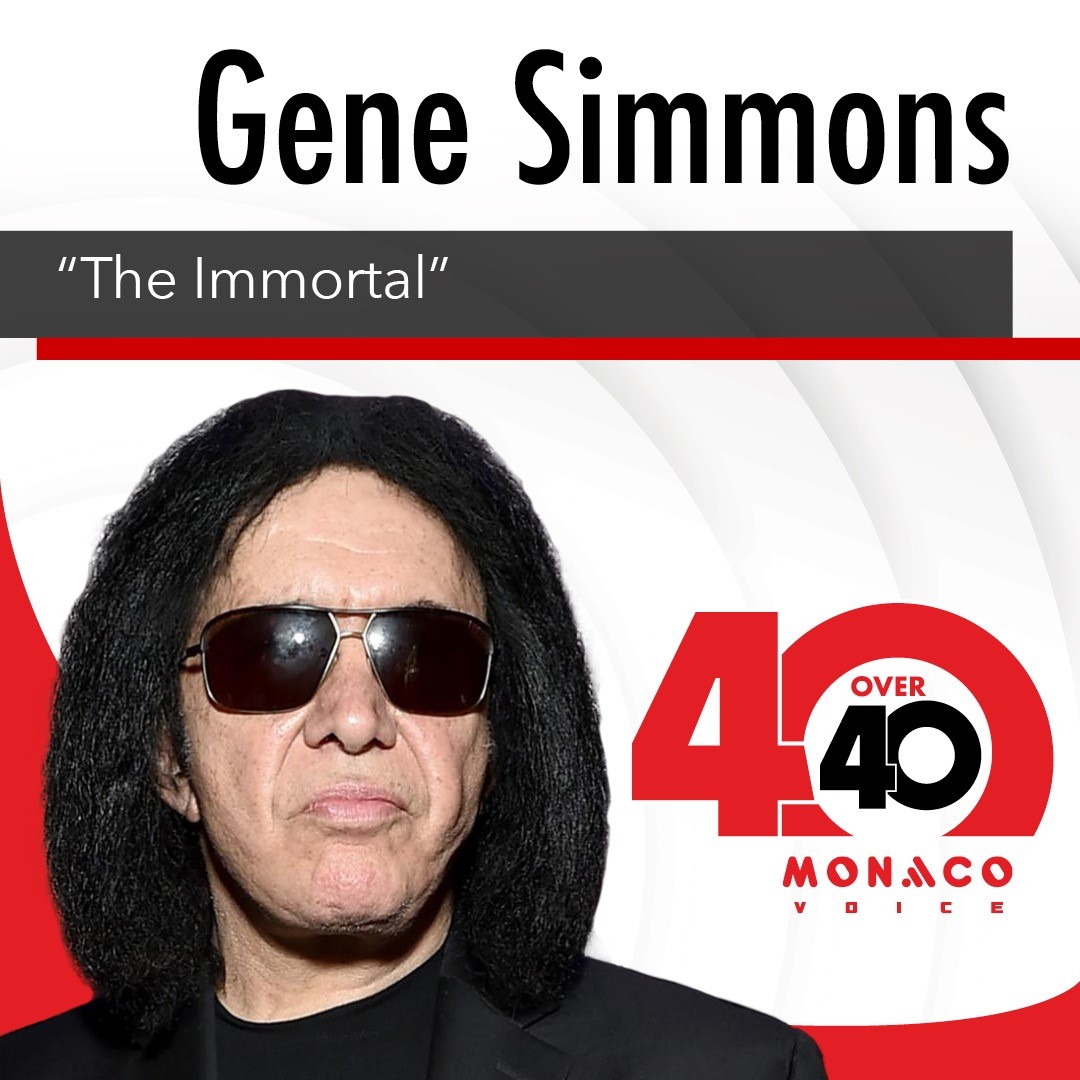 Gene Simmons, universally acclaimed for his extraordinary musicianship and his formidable stage persona, is the embodiment of resilience, creativity, and an unyielding spirit. Born Chaim Witz in 1949 to Jewish immigrants in Haifa, Israel, his story is one of a triumphant ascent; from a humble, challenging childhood to being honored in the Rock and Roll Hall of Fame in 2014, and more recently, his recognition as a luminary in the Monaco 40 over 40.
Despite his early life in Israel being marked by hardship, Simmons remained indomitable, showcasing his entrepreneurial spirit by selling wild fruit alongside a childhood friend. At just eight years old, Simmons and his mother migrated to the United States, carrying with them dreams of a prosperous future. As he navigated the vibrant cultural tapestry of New York, Gene, then known as Gene Klein, honed his skills as a guitarist and pursued higher education at Richmond College and Sullivan County Community College.
The Beatles, with their seismic influence, were instrumental in shaping Simmons' musical path. Fueled by inspiration, he embarked on a musical odyssey, beginning with his first band, Lynx, which later morphed into the Missing Links. His journey through various bands and jobs culminated in the formation of the legendary rock band, Kiss, co-founded with Paul Stanley, Ace Frehley, and Peter Criss in the 1970s.
Continuing this spirit of adventure and innovation, May 2023 marked another significant milestone in Simmons' career as he co-launched Simmons/Hamilton Prods with Gary Hamilton, chairman of Arclight Films. The joint venture aims to develop, finance and produce feature films, particularly focusing on action, thriller and genre titles with global franchise potential.
Simmons' uncanny ability to reinvent himself led to the resurgence of Kiss's popularity in the 1980s, during which he launched an expansive merchandising franchise, cementing his reputation as a business maverick. This dynamism extended to managing Liza Minnelli's pop career in 1989, demonstrating his versatility and influence within the industry.
Simmons' entrepreneurial ventures are varied and vast, from founding Simmons Records and the Gene Simmons Tongue Magazine, to co-owning the LA Kiss Arena Football League team. His television projects, including the reality show Gene Simmons Family Jewels, offer an intimate window into his personal life with his beloved wife, Shannon Lee Tweed, and their children, Nick and Sophie.
Alongside his staggering professional accomplishments, Simmons remains a staunch supporter of Israel, his birth country. His visit in 2011 was a deeply moving experience that reinforced his connection to his roots.
Reflecting his brilliant career, Simmons' philanthropic work demonstrates his profound humanity. As a staunch supporter of ChildFund International, he sponsors over 140 children in Zambia and co-founded "The Children Matter," which advocates for worldwide access to child healthcare.
As an invaluable mentor, Simmons' business advice has profoundly impacted many individuals, including myself, the editor-in-chief of this publication. His unwavering commitment to excellence, combined with his sharp wit, is profoundly admirable.
Having had the privilege of knowing Simmons for several years, I can attest to his undeniable charisma, infectious humor, and boundless generosity. His wisdom, as captured in his book "Me, Inc.: Build an Army of One, Unleash Your Inner Rock God, Win in Life and Business," offers a unique success blueprint, underpinned by his personal experiences and insights.
A beacon of resilience, creativity, and compassion, Gene Simmons epitomizes the essence of the Monaco 40 over 40. His brilliant contributions as a musician, entrepreneur, philanthropist, mentor, and family man are a testament to a life extraordinarily lived. Gene Simmons, now fittingly known as "The Immortal," stands as a living testament to the phrase "carpe diem," seizing each day with unyielding enthusiasm, carving a path that transcends the ordinary, embodying an enduring legacy that resonates across generations.