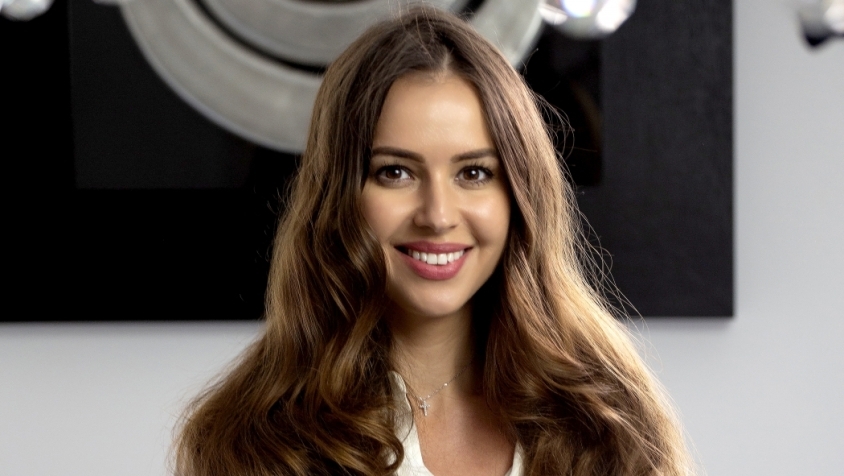 She became the center of a media frenzy thanks to her photograph with Donald Trump at the 2015 Miss Universe contest but Monaco entrepreneur Camilla Hansson proves she is more than just a pretty face.
Five years ago, as Barack Obama addressed journalists at the Washington Correspondent's Dinner for the eighth and last time, the two-term president roasted his would-be successor: "They say Donald lacks the foreign policy experience to be president. But in fairness he has spent years meeting with leaders from around the world: Miss Sweden, Miss Argentina, Miss Azerbaijan."
Suddenly, 26-year-old Camilla Hansson—aka Miss Sweden 2014— found herself in headlines from the New York Post to the Washington Post, with a photo of the Nordic beauty next to Trump at the 2015 Miss Universe pageant in Miami. (Trump sold the rights to the Miss Universe Organization—which owned sister scholarship programs Miss USA and Miss Teen USA—shortly after to pursue his campaign.)
"My picture with Trump ended up being used worldwide during the 2016 U.S. elections," Hansson tells us. "At the time, he was the owner of the Miss Universe competition and a famous businessman but not yet the president of the United States. I had read his books on business Think Big and The Art of the Deal so I was quite excited to meet him. I found him polite and the sort of larger-than-life character like you would expect. I knew the comment was derogatory but it was in the form of comedy."
At the time of "Missgate," Hansson, the youngest of three siblings, was living in London, having swapped her time in the Swedish countryside fishing, swimming in lakes, mushroom picking and taking long walks in the woods for "the best place in Europe" when she was 18. "I followed my gut feeling and packed my bags one early morning and left home. It was tough at first, I was sharing a room with two other girls and often struggled to make ends meet but I never gave up."
It is hard to imagine the model-turned-entrepreneur as "very shy" but she always had big dreams and inner self-belief. "I grew up watching Miss Universe on television, which was then one of the biggest shows of the year. I remember looking up to these women, thinking they represented strength and beauty. It became my childhood dream to one day take part and after winning Miss Sweden in 2014, I spent three weeks in Miami at the Miss Universe final competing against 88 other women from different countries."
It was a full-time job between preparing for the Miss Universe pageant, working as a brand ambassador for her sponsors and supporting various charities. "You have months of intense coaching. You need to have media training, work hard on your fitness, learn how to walk on stage, learn how to dress, learn etiquette ... It is a grooming process."
A very driven Hansson adds, "It is not all focused on image but there is certainly a lot of pressure to look your best all the time which is not always realistic."
When she first moved to London, every modelling agency rejected her. "I was told I needed to lose weight. I would go to casting and there would be hundreds of other girls applying for the same job. But I had persistence, determination and a hunger to succeed—even though maintaining a positive outlook was not always easy."
She got a break in 2012 starring in a Belle Et Bonbon advertising campaign that had asked 1,000 applicants to prove they were "smart as well as sexy" by quizzing them on their life and career achievements, creativity, ambition and wit.
Hansson admits that the Miss Sweden title changed the direction of her life. "The competition gave me a platform and a profile that was the foundation to eventually building my own business. But a title alone doesn't last forever so it is important to grab all the opportunities you can while it lasts."
Long before "environmentally-friendly" became a thing, Hansson had been drawn to an organic way of living. "My love for nature comes from my Swedish upbringing. Spending time in nature was just part of my life when growing up. We were outside all year around regardless of the weather. Also Swedes really care and have respect for the environment, everybody is recycling in their households."
She started working on a 4-year diploma at the College of Naturopathic Medicine in London. "I developed a passion for natural health and wellbeing after going through some health issues myself and not feeling like I could find the answers I needed in conventional medicine. The studies gave me a lot of knowledge about how to take control over my own health and I also felt like I could pass on this knowledge to people around me."
Hansson suffers from endometriosis and had tried everything from painkillers to acupuncture, with several emergency medical visits in between. What "truly gave me relief in the end" was CBD—cannabidiol, one of the chemical compounds found in marijuana and hemp. "CBD does not have any side effects as it is a natural product. I believe more and more people are looking for natural solutions to improve their health," she states.
As a result, Camilla Organics was launched in March 2020 and although her products are produced in the U.K.— "A great place to start a business with low start- up costs and easy access access to a diverse, skilled 31 workforce"—the CBD oil is sourced from the U.S. where she found the "highest quality" in Colorado.
Marketing Camilla Organics is a challenge. "You are not actually allowed to say what the products do because that would be making a medical claim which is not allowed. The market potential is huge as CBD becomes more and more mainstream with people learning about its health benefits and it is important for me to continue to develop my business and grow the brand ahead of my competitors."
Her competitive advantage, she describes, is that "this is a product developed by me for women to address a very specific but often overlooked issue that impacts a substantial number of us around the world—9 out of 10 women struggle with menstrual cramps and in the U.K., 1 in 10 with endometriosis. I am happy to be developing a potential solution that in my view can help improve women's lives as they juggle periods, childbirth and menopause.
"I know that this is just the beginning and I have a long way to go. As an entrepreneur it is a constant challenge, growth and learning process. In the beginning I was afraid but the desire to start the business and the purpose behind it outweighed the fear. And I hope, by scaling up my business, I will be able to work with more women to develop new ideas and products in the future."
Hansson moved to Monaco in September of 2020 with her partner. "It was a bit of an adjustment at first having to develop a new network of friends, but I now feel like I have found a lovely circle of people around me and I am really enjoying all the benefits of being here—the location, warm weather, amazing food. It's very different from the cold dark winters in Sweden I grew up with."
With the Covid pandemic ongoing, Hansson can work remotely from Monaco "as effectively as from London as long as I have my phone and laptop."
Still the businesswoman remains very close to her mom and older siblings back in Sweden. A year ago she purchased her childhood home in Stockholm as a second residence for herself and some of her family.
"My father died when I was young, and I had to learn to be independent and take care of myself from an early age. I never had much to fall back on, which I think has made me very motivated in life. And I have always had faith in something bigger than myself."