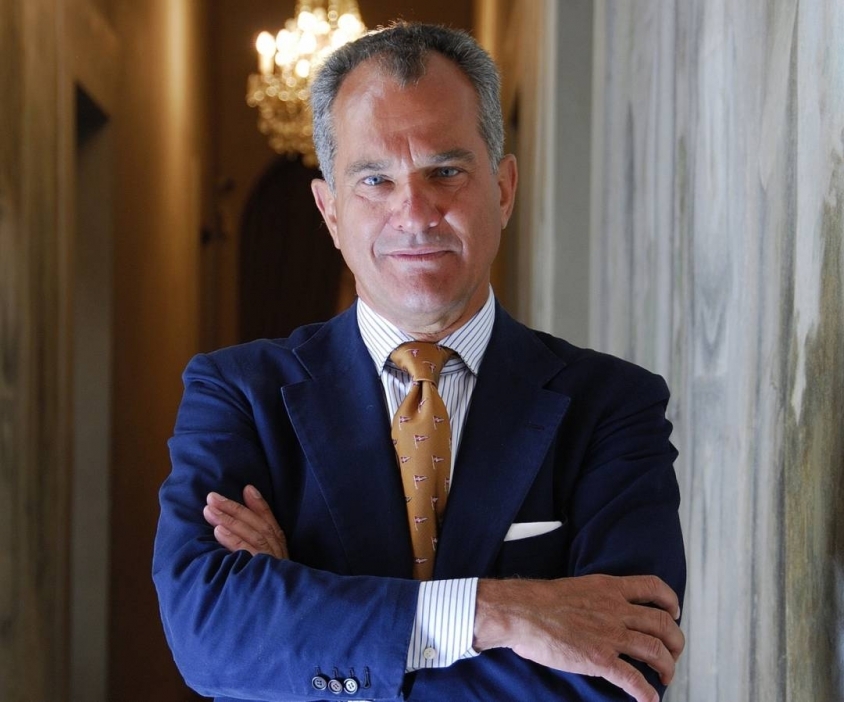 His father dressed the feet of Marilyn Monroe. His mom grew the Salvatore Ferragamo business from 800 pairs of shoes a month to 60,000. And while he stays busy as Director of Salvatore Ferragamo S.p.A., Leonardo Ferragamo most enjoys his time swanning around the Mediterranean.
Mention the name Leonardo Ferragamo in Monaco and you'll undoubtedly be met with a broad smile and simultaneous nod, and not just because he launched the Monaco Swan One Design regatta last year.
"I've been a member of the Monaco Yacht Club for many years and used to participate in the Primo Cup, the first one-design race," Ferragamo says from his office on Via del Tornabuoni in Florence. "In my earlier days I was president of the Smeralda 888 class, which was a great experience and a lot of fun."
Racing seems nautical miles from Florence, the headquarters to Salvatore Ferragamo S.p.A., where the companionable Ferragamo began working in the family business in 1973 as assistant to the director in the leather division.
His father Salvatore, who opened his first shoe shop at age 13 in his birth town of Bonito, started Salvatore Ferragamo in 1927 when he returned to Italy after making a name for himself in the U.S. as "shoemaker to the stars," revolutionizing women's footwear from his Hollywood Boot Shop. Having filed 350 patents in the field of shoes, the visionary created the Rainbow Wedge for Judy Garland in 1938 and invented the steel-reinforced stiletto heel made famous by Marilyn Monroe. When he died in 1960, Ferragamo was only 7.
"It was a big void when he died. For sure, I know much more of my father from what I have absorbed from his life, his values, his entrepreneurship, than from being able to know him the few years that he was here," reveals Ferragamo, one of six children. "His unbelievable motivation and determination towards life and towards business, all of us were and are so committed to meet the expectation of having this
incredible example of my father."
Ferragamo's mother, Wanda Miletti, was 23 years younger than her husband. In her late thirties, she stepped in and ran Salvatore Ferragamo with zero work experience, and grew the business from making 800 pairs of shoes a month to 60,000 a month by 1981. Plus she expanded into handbags, men's clothing and eyewear. She died in 2018, with the Group counting 4,000 employees (from 700 workers who "handcrafted a few hundred shoes per day" in the fifties) and posting a consolidated turnover of $1.52 million (€1.347 million), with roughly 90% generate abroad.
The extended Ferragamo family consists of 65 children and grandchildren, and the business had always been family run until 2006 when Michele Norsa was the first outsider to take over: he was replaced last July by Micaela le Divelec, who is the current CEO.
"With children aged from 2½ to 18, my mother never shared worries or concerns about the business when she took over. Her positivity always prevailed. She was testimony to my father and brought forward his examples into our family and the company. It was a great learning experience," articulates Ferragamo.
With a degree in business administration from University of Imede in Lausanne, and a degree in administration and finance from Columbia University in New York, the 66-year-old held a variety of director and chief executive posts within the company, covering everything from men's shoes to the Europe/South America/Asia divisions. Currently he's director of Salvatore Ferragamo S.p.A.
He recalls fondly, "The late eighties was a fantastic time for our company. I was part of a great team with all my brothers and sisters having different roles in development or management, and my mother was the driving force. At the time, the company was very much based on an industrial mentality and we were focused on America, which represented over 80% of our business, done almost totally through department stores and tailors. We only had two shops in New York and 12 in Europe.
Ferragamo was involved with the brand's international development for ten years, sharing family vision with other countries in the world "where we were doing minor percentages of business and doing it through our own direct shops." Meanwhile, America continued to grow: "It was 20% of our total sales and retail went from a little more than 10% to 60%, so the company and the whole team was transformed .
"I was living on a plane and totally committed to making things happen."
His passion for design crossed over to a different industry when in 1998, Ferragamo acquired Nautor's Swan, with its shipyard based in Finland. "As a Swan owner for a number of years, I lived the company from the outside," says the President of Nautor's Swan Group. "Swan is not about building yachts, it's about being committed to an identity—the yacht's magical combination of performance, style and total reliability."
The chairman of Lungarno Alberghi owns seven Swans, the most recent being the second-largest Swan ever built, the 115 Solleone. There are 2,200 Swan owners worldwide. "It's about being part of a club with a global vision that moves into customer care, event management, gentleman-like quality racing in a way. We take it tremendously to heart, and I have probably observed this over many years in professional activity, there is a global responsibility over the brand.
It's like being part of one big fleet, one big family," says Ferragamo, who's also CEO of Palazzo Feroni Finanziaria (real estate, hospitality and diversified activities).
Managing the Rolex Swan Cups for over twenty years, Ferragamo inaugurated the Monaco Swan One Design regatta in March 2018. "Before other venues Monaco was the base of the one-design, which has become such an important component of Nautor's that we have divided the Swan line with a clear distinction between a cruising yacht and a performance yacht."
Thirty boats signed up straight away for the first edition, with three Classes: 42, 45s and the newly launched 50. "This pushed us to create a Nations League circuit, first in the Med, then this year in Northern Europe and hopefully in America next year."
For Ferragamo, "sailing is the best gym for your life" and shares an attitude you can apply to your professional life. "It's more important how you react to one defeat than 100 successes. It's your attitude that counts, and the willingness to move past the negativity."
"Sailing is not just a sport. It's love and appreciation of nature, and the Swan Spirit embraces all that." In May 2019, in a bid to highlight its commitment to protecting the sea, Nautor's Swan, together with Marevivo, organized one of the first sustainable regattas implementing eco-friendly measures.
"Combining technical expertise and cutting edge technology with environmental awareness and sustainability is the new philosophy of sailing and living the sea," says Ferragamo. "And the first step towards real cultural change is to avoid the use of plastic on board."
Ferragamo never misses the "inspiring" Monaco Yacht Show. "Monaco has been and will always be the capital of yachting. It's a show where we are able to have an overview on the trends of the industry.
Shipbuilders, designers, influencers, suppliers they all meet there to present their innovative ideas and products to a very demanding and high-profile audience.
We'll attend the show with one of our flagships, the Swan 115, and have quite a large number of different models in production to talk about. We're really looking forward to 2020 and beyond to bring one of the most exciting yachts we have ever built—the succession to my Solleone, the Swan 98 and Swan 120."
Succession is something Leonardo Ferragamo knows all about.