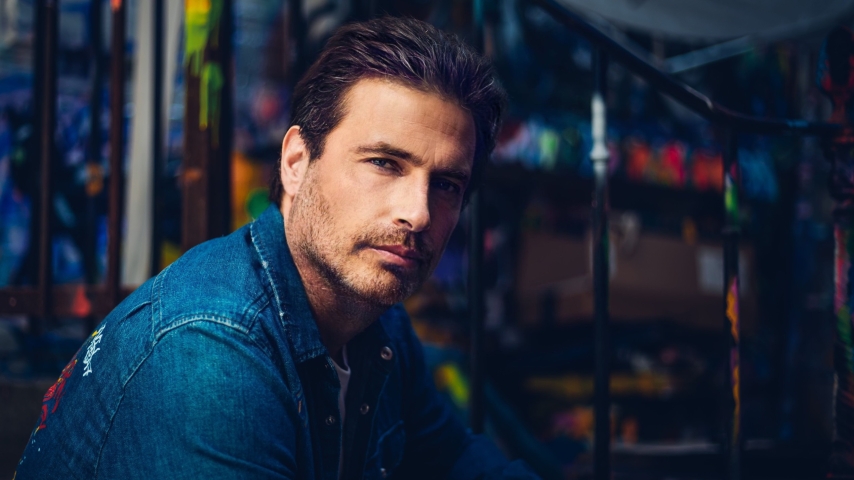 Tell us how you've developed your art career so far?
I started my artistic career in 2004 with my first sculpture, a bright red resin crocodile. I have always been inspired by pop culture, by everyday life. It was very complicated at the beginning because I entered the art world very late and I wasn't co-opted, I didn't take the traditional paths to get where I am today. Not everyone liked it, but I managed to make a name for myself and today I am exhibited in more than 200 galleries around the world. I created my own Orlinski Galleries, which are dedicated to my universe, a concept that I created, and which is expanding rapidly as we have just opened one in Miami and in Gstaad very recently
What's your background?
I have always been passionate about art and music from a very young age. I started creating clay sculptures at the age of 4. Unfortunately, I quickly realized that it was a complicated world to enter so I preferred to go into a more traditional field of study, notably working in real estate. Then at the age of 38, I had a burn out, I was no longer happy in what I was doing, and I decided to throw myself once and for all into my true passion, art.
Describe your breakeven artist moment and with which art piece or collaboration you achieve this?
I didn't really have a breakeven artist moment. But I had some really important moments for sure, the creation of my Wild Kong, which is now my flagship work, has obviously been important, but also partnerships like Disney have been very important in my quest to make art accessible to all. Doing open-air, street exhibitions to bring art to people is also extremely important to me. When I had the chance to do it on the Champs-Elysées as the first French artist to do so, I often walked by and saw the emotions it brought to people, it was unique.
List your major exhibitions?
I've done a lot of exhibitions, but I especially like outdoor exhibitions to bring art for free to everyone. I've done it in many places around the world, at the Venice Biennale, I have one currently of over 12 monumental sculptures in Miami. In my country, I also do it a lot, in big cities as well as in small ones, I try to answer a maximum of requests from the municipalities to make a maximum of people benefit from it. One of the most impressive was probably on the Champs-Elysées in Paris because I was the first French artist to be exhibited there.
How you choose your next collaboration?
I'm lucky enough to have a lot of proposals for collaboration so that helps. I work mostly with the human side of collaborations, the relationships that we have with each other. Values are very important to me. For me a collaboration is a bit like a marriage, so it has to be beneficial to both sides. Besides, the collaboration has to be logical, credible with a real story to tell and not only for business reasons.
Tell us more about the Lancome collaboration, how this happened, is your first time working with a beauty brand
Lancôme was indeed my first collaboration in the beauty world. As I told you in the previous question, I work with people and Lancôme was above all a meeting with their CEO Françoise Lehmann who shares my values, my vision of innovation and French savoir-faire. Our worlds blended perfectly and this resulted in an extraordinary collaboration
Describe how art is important to society?
For me, art is a necessity, with its imperatives, a necessary process of reflection. Our society needs to escape, to feel this freedom of expression, to create, to innovate.
Can you describe the art process in your latest collaboration with Optical center?
The artistic process with Optical Center was quite similar to my other collaborations. I try as much as possible to bring our two worlds together to create something unique. It wasn't an easy exercise because I've never worked on optics before but I'm very proud of the result, we mixed our knowledge and the feedback from customers is really good.
Describe your dream project?
My dream project would probably be to take art into space. We're already working on that project, but yeah, taking art to the moon or something like that would be really special. Art is meant to bring people together, so if you could bring humanity together behind an art project that you take into space, I think that would be a pretty strong message.
How many galleries do you have created, how do you pick the city, tell us about your gallery in Gstaad?
I'm exhibited in over 200 galleries all over the globe and I've created Orlinski Galleries in Paris, Courchevel, Saint Tropez, London, Mexico City and recently in Miami, Riyadh and Gstaad, this concept is set to be extended to all the world's major art capitals in the years to come. Gstaad is a bit special because it is only the second high altitude Orlinski gallery in a prestigious ski resort after Courchevel, and it is also the first in Switzerland. I worked a lot on it with my partner for this gallery and I am proud to be exhibited in such a prestigious resort.
Where are you from and how does that affect your work?
I am a true Parisian. I was born, raised, and have always lived in Paris. I have Polish origins, hence my name Orlinski, but Paris is my true home. It is the most beautiful city in the world, so it inspires me in every way, especially in architecture. It is the only place in the world where I feel truly at home.
How do you develop your art skills?
I develop my art skills mainly by traveling and meeting new people. I host a documentary series on TV5 Monde in which I go to meet French-speaking street artists all over the world. During a day I live their life with them, and they really take me into their universe. We are in the 2nd season and I'm really proud of it because for them it's a real boost for their career and personally I learn and discover a lot.