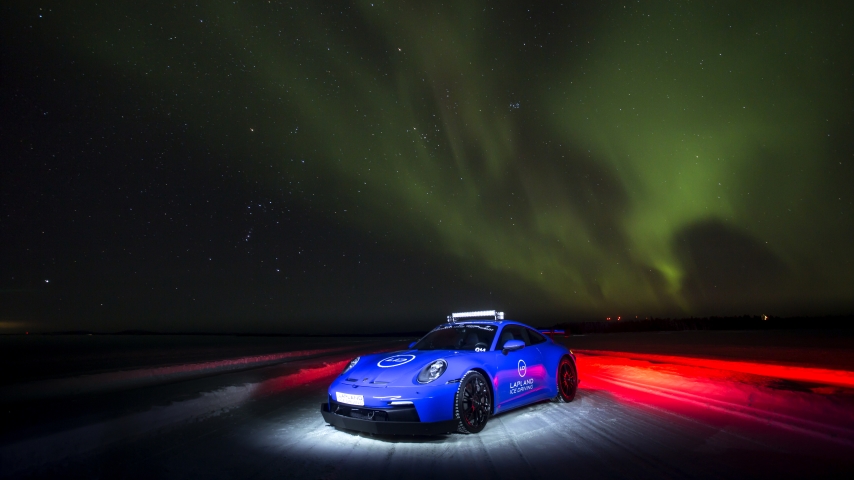 Nestled 70 km from the Arctic Circle, in the heart of Swedish Lapland, lies Arjeplog, a place where the magic of nature meets the thrill of technology. This European hub for extreme weather car testing is
surrounded by vast lakes, snow-covered pine forests, and the mesmerising arctic tundra. As night falls, the Northern lights dance overhead, providing a surreal backdrop to the powerful hum of sports car engines.
For a limited 14-week period each winter, the frozen Lake Udjaur is transformed by Lapland Ice Driving into the world's largest driving centre. This 3,000-acre private drifting playground is unparalleled globally. Enthusiasts can navigate 13 different tracks, including full-scale replicas of iconic Formula One circuits like Silverstone, Paul Ricard, and Nurburgring.
Whether you're a novice or an expert, the experience promises adrenaline-pumping excitement. Under the guidance of top-tier instructors from premier driving championships, participants can hone their drifting skills, driving up to 250 km daily – equivalent to an F1 Grand Prix. The thrill is pure and unfiltered, with no barriers or walls, just the soft cushion of fresh snow flanking the tracks.
The fleet at Lapland Ice Driving boasts 30 specially-prepared cars, ranging from Ferrari and Lamborghini to Porsche and Toyota Yaris GR. Each day offers the chance to experience the exhilaration of a different vehicle, all tailored for extreme driving conditions.
Beyond the driving, the experience is elevated by bespoke services. The dedicated team at Lapland Ice Driving ensures a seamless journey, handling all travel arrangements, regardless of your origin. The focus is solely on indulging in the extraordinary.
Guests are encouraged to share this once-in-a-lifetime experience with loved ones. For those less inclined towards ice driving, a plethora of other activities await. From dog-sledge tours and snowmobile adventures to a tranquil spa and sauna session, there's something for everyone.
In line with their commitment to sustainability, Lapland Ice Driving sponsors the PLANETE URGENCE association, launching the "LID FOREST" initiative under the TAPIA project. Aiming to plant 10,000 trees annually, this initiative underscores their dedication to environmental responsibility and a sustainable future.
This Arctic adventure, available only from January to March, promises to surpass even the loftiest expectations. For bookings and more information, visit www.lapland-ice-driving.com .