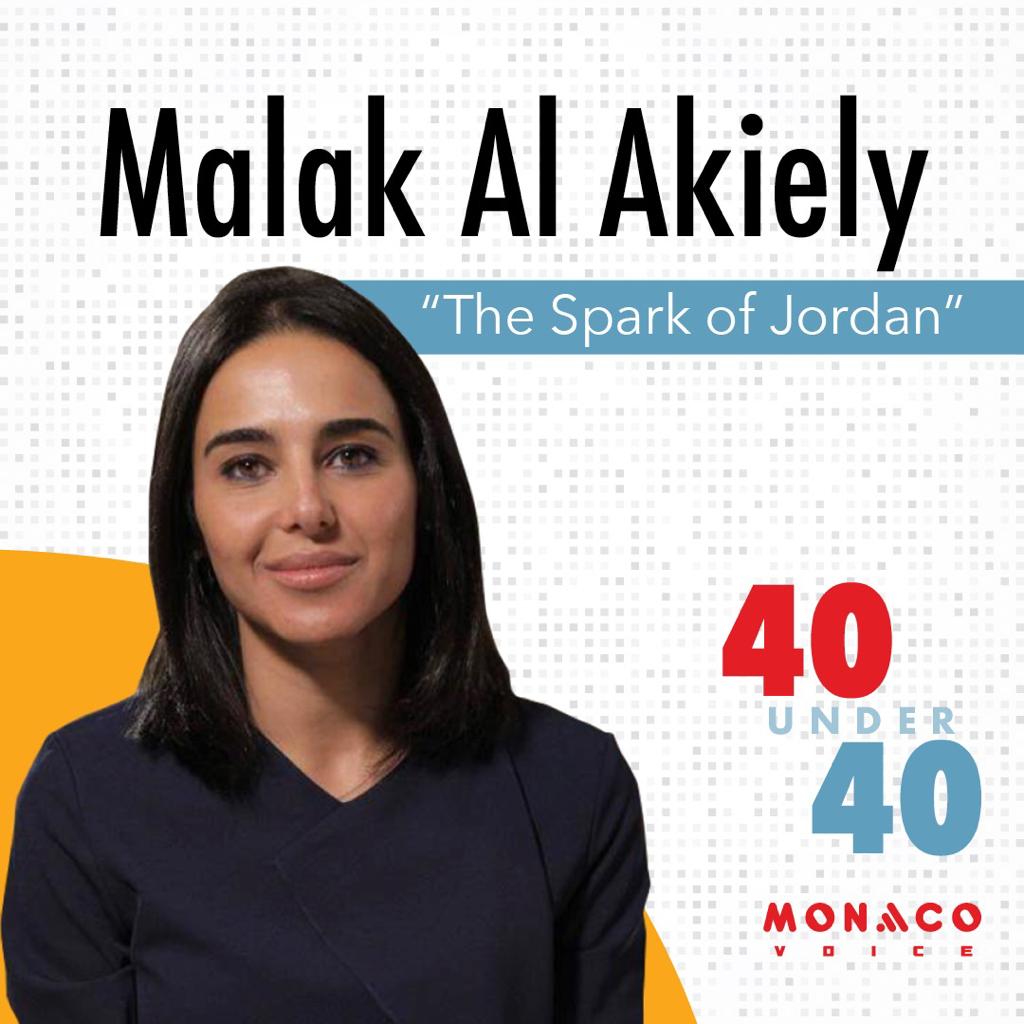 The Spark of Jordan, Malak Al Akiely, Is Achieving the Impossible by Standing on Her Values.
"As a leader who embodies the very essence of entrepreneurship, kindness and abundant energy, Malak truly deserves the recognition and honor that comes with being a MonacoVoice 40 under 40. Her unwavering commitment to excellence has inspired countless women to pursue their own dreams with passion and determination. Her tireless efforts as a Young Global Leader at World Economic Forum have helped break down barriers and create opportunities for the next generation of entrepreneurs everywhere." | Fabrice Marquet Founder of MonacoFoundry.com.
As the Founder and Managing Director of Golden Wheat for Grain Trading—the only female owner of a company of its kind in the MENA region—and a managing partner in Golden Kayan for Oil & Energy, Malak Al Akiely is an expert commodities trader. She's concerned about food security and clean energy. Coming from a region where bread is sacred, her aim is to transform the food system using digital technologies to achieve food sustainability.
As the co-founder of the Jordan Economic Forum and a Young Global Leader with the World Economic Forum, a select group that includes professionals in business and NGOs from around the world, her opinion is valued in the C-suites. She is dedicated to social entrepreneurship and helping people earn a decent wage and learn new skills.
Hand-selected as one of 100 influential change makers invited to FutureTalks, she was the first Jordanian to visit the Arctic and cross 80 degrees north latitude. She's a curious traveler, a spirited trail blazer, an athlete currently training for the Ironman 70.3, a Half Ironman Triathlon.
She is also a daughter, sister, wife, and mother. She exudes a passion for fostering empathy and creating a world where all humans are connected by and act upon their shared values. Her moral compass guides her sense of responsibility and her imperative to lead by example.
For all these reasons, and more, she is a successful businesswoman, a confident leader, a sought-after speaker and mentor. She isn't hoping to achieve the impossible, she is achieving the impossible in a male-dominated profession in a deeply patriarchal culture, and she's doing it without compromise.
Foundational to her success is Al Akiely's insights into her field. Commodity traders are having to consider new things in 2023, be they wars between nations, pandemic related health risks, or complex ever-changing policies and laws governing supply chain management. Add to that list new technologies like blockchain, VC investments in green tech and agri-tech, and you have an emerging market of life science-based solutions, many of which are pragmatic and scalable.
"The whole concept of grain trading has been transformed throughout the years," says Al Akiely, "You cannot be just a trader looking at basic supply and demand, looking at what the price is, looking at the stock exchange. Now you have to look at other factors. You have to do your own research, look at how to mitigate risk, study and explore geopolitical and environmental issues."
Above other markers of success, Al Akiely values human well-being and mental resiliency and the companies she's come to represent value her for precisely these reasons. She is honest. She wants to be held accountable. Her own company is built not on what she does, but on who she is. With humility she emphasizes the collective "we" not the solitary "I."
"A toxic ego can destroy nations," she cautions.
Her values ground her and govern her professional and personal decisions, and her commitment to those values has helped her to rise above, much like her name, Malak, which means Angel, implies. Said to be one of the most precious Arab names for a girl's identity, the name also means Messenger. Prophetically, her message of empathy and shared human values is both beautiful and needed in a world marred by hostility.
Passionately and with ease she presents her ideas about how we can all learn empathy and see its value in business and negotiation. Approaching life with an open heart and an open mind is essential, as well as being free of judgment.
"Exposure is very important," she begins, "and coming from a place of abundance. I can tell you about the warmth of Jordanian hospitality forever, but when you touch it, when you feel it, when you are exposed to it, then you start appreciating it, and you want to be the same. Then others will want to join you, then you create community and then create momentum," ultimately creating a movement.
When we listen to understand we develop a respect for another person's perspective. Volunteering also helps work the empathy muscle and build social skills. By actively and passionately listening and learning we become better communicators, in the process writing beautiful stories. Al Akiely strongly believes these are the stories we must share, because they engender our faith in humanity.
Working in an intense and aggressive business environment, she's learned what it takes to succeed, and she wants to inspire young females around the world to do the same. Al Akiely prefers to think of her dreams as goals, which can be fully realized through education, effort, patience, and a clear vision. Her advice is to focus on what you do well. As your confidence grows, you'll move with conviction.
"Never underestimate yourself," she says with gusto!
Another of her strategies is to surround yourself with circles of trust and support. She includes in those concentric circles, knowledge and expertise, the circle of family and friends, and the circle of trust and confidence. She values taking care of herself and these circles serve as a storehouse for resiliency.
Post-Covid she asks herself, "How can we prosper on a personal and professional level in a world which is volatile, uncertain, complex, ambiguous, digital?"
The answers she offers reside, not surprisingly, in resilience, mental flexibility, and innovation. To bridge the digital divide, she likes the idea of using technology as a vehicle to get us where we want to go, a tool to make life better. She's also excited about emerging opportunities in the MENA region, especially the nexus of water energy and agriculture and integrating technology into traditional businesses.
As a female, Al Akiely is thriving in a patriarchal society, in part because she knows what she brings to the table. She wants to change the narrative by inspiring women to focus on knowing where they add value and "smash" their own limiting stereotypes. Come prepared with your own success story; you'll be able to step into the moment bravely. Gender won't matter.
Living in the moment, she is happy where she is right now, enjoying the fruits of all her labor. Quoting her friend and fellow Young Global Leader, Zainab Salbi, she exclaims, "Life is delicious!" and she is savoring all of it, with gratitude.
An MBA already under her belt, Malak Al Akiely plans to continue to expand her knowledge and expertise in the economics of agriculture and has political aspirations to serve her country, the land that has shaped her worldview and played a role in making her the kind and courageous woman she is.
Find Malak Al Akiely on Facebook, LinkedIn or by emailing goldenwheat@goldenwheat.co.