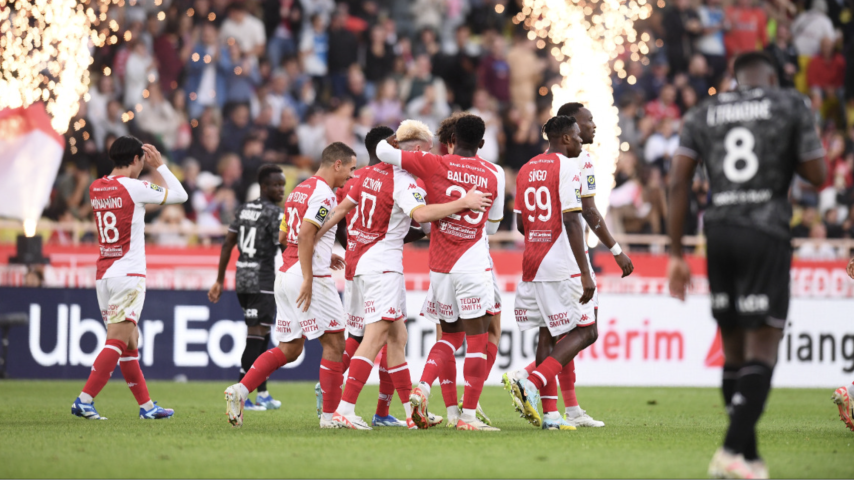 On Sunday, October 22, Monaco reclaimed their top spot in Ligue 1 with a hard-fought 2-1 victory over Metz. This win gives them a one-point lead over their closest competitor, OGC Nice.
The match, held at the Louis-II stadium, saw Monaco live up to their favorite tag, even though they faced a few challenges. The first half was a bit sluggish, with Monaco's coach, Adi Hütter, deploying a four-man defense for the first time this season against a defensively solid Metz side.
Monaco faced some lineup challenges as Maripan was ruled out due to an ankle injury sustained during the international break, while Magassa and Zakaria were suspended. Vanderson, Embolo, and Henrique were also absent, nursing knee injuries.
Despite these setbacks, Monaco's defense, which included Diatta as the right-back and a new center-back pairing of Singo-Matsima, was caught off-guard early in the game. A misplaced pass from Minamino to Fofana led to Camara capitalizing on the error, scoring a stunning 58-meter shot past an out-of-position Köhn, giving Metz a 1-0 lead in just the 4th minute.
Post the international break, Monaco initially struggled to create clear-cut chances. Their forwards, Ben Yedder and Balogun, were largely invisible. However, a moment of brilliance from Golovin, who curled in a beautiful shot, leveled the scores for Monaco just before half-time.
Hütter, not entirely pleased with his team's first-half performance, made a tactical change at halftime, bringing on Akliouche for Camara. In the offensive phase, Fofana was positioned between the two center-backs, reverting to a three-man defense during build-up plays.
However, this tactical shift left gaps in Monaco's defense. Jean Jacques nearly capitalized on this, but Köhn made a crucial save. The Swiss goalkeeper was again called into action, denying Tetteh shortly after halftime.
Monaco's savior, Golovin, stepped up once again, scoring from a precise free-kick, giving Monaco a 2-1 lead in the 55th minute. Minamino and Akliouche had opportunities to extend the lead but were denied by Metz's goalkeeper, Oukidja.
In the final moments of the game, Ben Seghir, who had been sidelined due to a thigh injury, made his season debut. Köhn made one last save from Van den Kerkhof's shot, ensuring Monaco secured all three points.