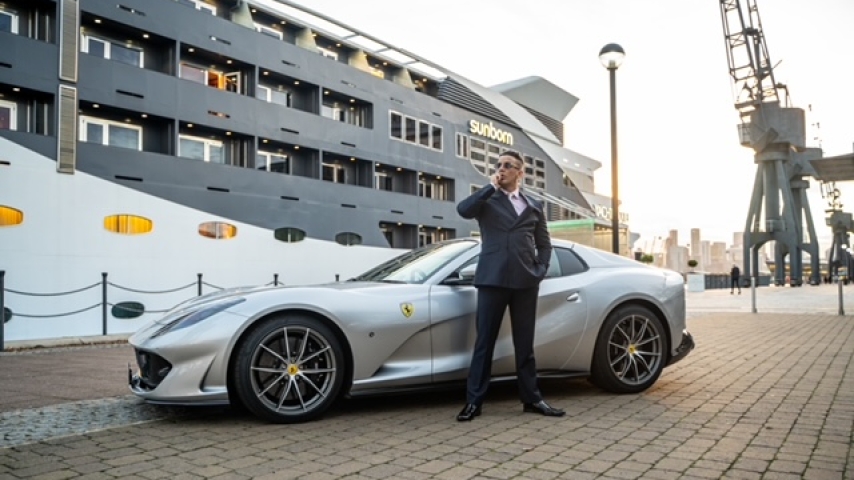 MONACO and Monte Carlo are the focus for a new business phase by Joseph Valente, the entrepreneurial multi-millionaire star of the British business BBC TV show The Apprentice.
He will use the prestigious Mediterranean principality to promote his latest venture, Millionaire Mastermind, a high net worth network for aspiring multi-millionaires and billionaires.
Launching in January next year, Valente said: "Millionaire Mastermind will teach our already successful subscribers those secrets that will boost their wealth to the highest levels.
"Guest speakers for London will include businesswoman and TV star Baroness Karren Brady, dynamic young entrepreneur Steven Bartlett, and internet superstar and entrepreneur KSI, and we will create a similarly high-ranking and relevant line-up for Monaco, a mecca for networking and investment opportunities.
"We will then do the same for Dubai and Miami and other future targets, currently being evaluated by my team."
Valente recently boosted his own high-ranking UK contacts by re-locating to London's Mayfair, and then hosting a select 20-strong high-net-worth networking event in Marbella, including billionaire Wyldecrest Parks mogul Alfie Best.
Revelling in his 'rag to riches' rise from humble circumstances and expulsion from school at 15, Valente has shown no fear of moving in elevated circles, having already impressed the demanding host of The Apprentice, Lord Alan Sugar, enough to win the hit TV show in 2015.
Now 33, he previously built a multi-million-pound gas installation firm in the UK, and now specialises in mentoring others to develop their companies, and in fostering commercial relationships and opportunities.
"I can see huge potential for people like me in Monaco," he added. "It isn't simply a playground for the wealthy, but also open for business, whether you are an ambitious entrepreneur networking and hunting start-up capital, or a discerning investor group or high-net-worth individual.
"There's even royal backing; I've noted how The Prince Albert II of Monaco Foundation supports sustainable start-ups through grants and partnerships.
"Then the appeal goes up a notch with 'must events' for top people like the Monaco Grand Prix, Monaco Yacht Show and Monte Carlo Fashion Week, offering more chances to mingle with global influencers and potential investors.
"And all of this is packed into just two square kilometres (1.25 sq miles) with some of the world's best hotels, superb conference facilities - with the 3,000-capacity Grimaldi Forum as flagship - and the well-connected Nice airport nearby."
Valente was born and grew up in Peterborough, in the UK and showed entrepreneurial traits from a young age: "I was kicked out of school at 15, but even at seven I was that hustling kid always looking to make money.
"I trained as a plumber and, at 22, borrowed £15k and set up on my own as a 'man in a van'. I founded Impra-Gas in 2012, building it into the UK's largest independent boiler business by the time I was 30, with annual sales of £10 million and many award wins."
In the meantime, he saw applying for The Apprentice TV show as a further step up and the judges were impressed by his entrepreneurial drive, practical expertise, and strong communication skills.
His most recent success has been Trade Mastermind, claimed to be the UK's No1 training provider for trades and construction businesses, helping them to expand to even greater success.