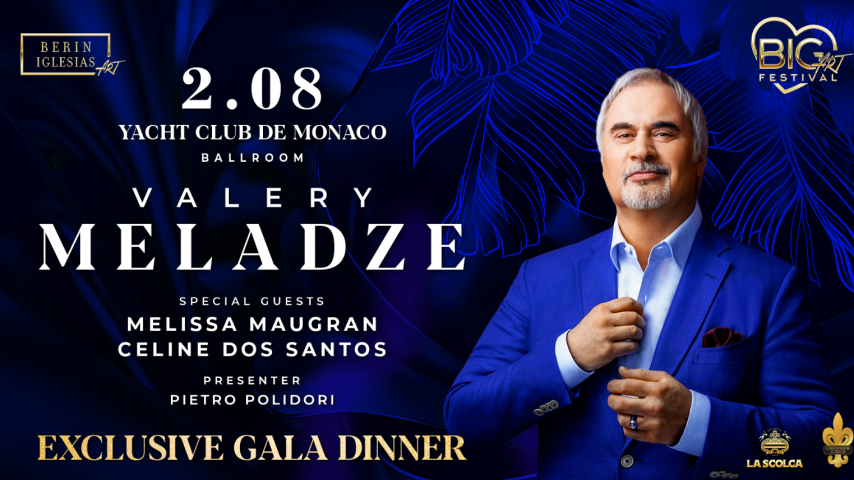 On August 2nd, the radiant Principality of Monaco, a destination synonymous with luxury, opulence, and charm, is poised to play host to an unparalleled gala evening—the BIG ART FESTIVAL. Boasting an exclusive performance from Valery Meladze, this festival has morphed into a treasured tradition, attracting discerning patrons from across the globe each year.
Organized by BERIN IGLESIAS ART, the BIG ART FESTIVAL is a phenomenon unlike any other. With a dazzling red carpet, the shine of diamonds, a gathering of celebrities, and leading business figures, the festival is frequently the subject of international glossy magazines' coverage. The festival's success lies in its matchless blend of exclusive artistry, global music icons, and unparalleled gastronomic experiences.
Stages of past BIG ART FESTIVALS have been iconic, set against the backdrop of the picturesque Forte dei Marmi, the idyllic Capri island, D Maris Bay hotel in Turkey, the luxurious ski resort of Courchevel, the brand-new Royal Atlantis hotel, and the famed Burj Al Arab and Armani hotels in Dubai. It's the Yacht Club de Monaco, however, that frequently holds the honor of being the festival's host, a testament to its elite status within the Principality.
The festival has seen performances from renowned artists such as Andrea Bocelli, Nicole Scherzinger, Seal, Jamie Cullum, HAUSER, and Andrea Griminelli. This year, Valery Meladze, the beloved romantic of the stage, will take the spotlight, ready to captivate audiences with his lyrical ballads and energetic hits.
The gala night is also a gastronomic delight. Top hotel chefs present mouth-watering delicacies—black caviar, champagne, lobsters—guaranteeing an unparalleled dining experience that complements the grandeur of the evening.
The red carpet event is a perennial festival highlight. As camera flashes burst, celebrities, top models, and icons of the fashion and show business strut their stuff. More than a festival, it has evolved into a high-profile business club, facilitating networking among the world's most influential personalities.
This year's venue, the Yacht Club of Monaco, embodies luxury, designed to resemble a multi-deck liner. This elite meeting spot for the world's wealthiest is adorned with magnificent decks, a swimming pool, and terraces offering gorgeous views of the Mediterranean bay.
Adding to the evening's allure, Melissa Maugran, the French singer and star of The Voice TV show, will enchant attendees with her magnificent timbre, complemented by the master guitar playing of Celine Dos Santos. Renowned international and multilingual event presenter Pietro Polidori will host the gala night, further elevating the festival's sophisticated ambiance.
With such a rich array of global stars, luxurious experiences, and world-class entertainment, the BIG ART FESTIVAL 2023 promises to be an unforgettable evening in the heart of Monaco.
Those interested in attending this exclusive event can purchase tickets on the website or,
inquire on WhatsApp at +48 726 235622.