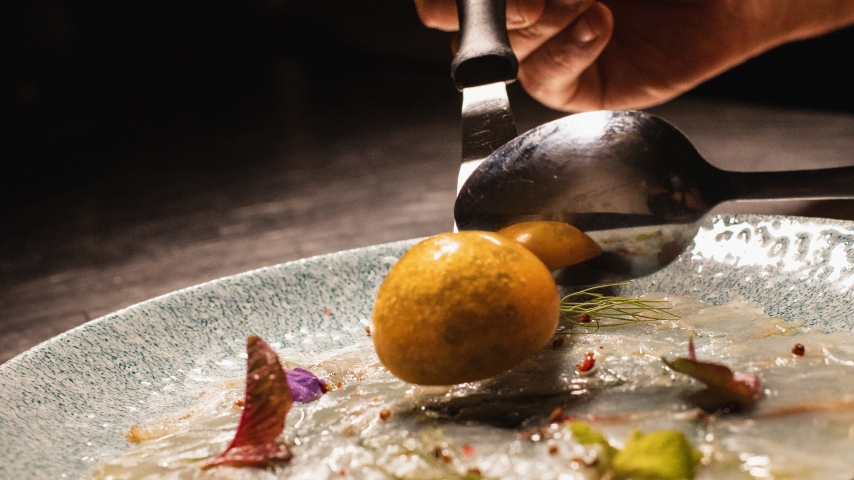 Monaco, the glittering jewel of the French Riviera, is no stranger to luxury. Known globally for its sun-soaked beaches, opulent casinos, and prestigious events, this city-state also hosts a world-class dining scene. From local delicacies to international fare, Monaco's culinary landscape is as diverse as it is exquisite. Two groups, in particular, Giraudi Group and Monte Carlo Hospitality Group, alongside the renowned Société des Bains de Mer, stand at the forefront of this gastronomic excellence.
The Giraudi Group, a major player in Monaco's hospitality sector, showcases a unique portfolio of culinary experiences. Behind each establishment, Humbert & Poyet's thoughtful designs bring to life a distinct identity and atmosphere, creating an ensemble of dining spaces as diverse as they are luxurious.
Beefbar, one of their notable establishments, redefines the meat dining experience. Here, each cut is a celebration of flavors, served in an environment radiating timeless glamour. From succulent steaks to delectable side dishes, Beefbar crafts a haven for carnivores.
Song Qi, an epitome of Chinese fine dining in Monaco, takes patrons on a culinary journey through China's diverse gastronomic regions. Traditional dishes and innovative creations coalesce in a menu that captures the essence of Chinese cuisine, all set in a breathtakingly refined ambiance.
Mozza infuses an inventive spark into Italian cuisine, creating a retro-chic space where traditional and modern flavors coexist. The warmth of Italian comfort food combined with a fashionable setting makes Mozza an irresistible destination.
At Cantinetta Antinori, guests embark on a sensory tour of Tuscany. A meticulously curated menu is perfectly complemented by an exceptional wine selection, each sip and bite a testament to Italy's rich culinary heritage.
Moshi Moshi, a sushi bar with a Mediterranean flair, stands out for its fusion of Japanese precision and Mediterranean freshness. This intimate setting serves as a stage for creative sushi offerings, promising a unique gastronomic adventure.
On the other hand, the Monte Carlo Hospitality Group embraces the spirit of Mediterranean hospitality, radiating warmth and luxury through Monegasque fine dining. This group enhances the connection between New York and Monte Carlo, embodying culinary excellence at its finest.
Rampoldi, the flagship establishment of the Monte Carlo Hospitality Group, is more than just a restaurant. It is an institution steeped in the history and cultural heritage of Monaco, making it a shining icon in the Monegasque dining scene. Since its establishment in 1946, in the heart of Monte Carlo's Carré d'Or, just steps away from the Casino gardens, Rampoldi has remained committed to a standard of service that is nothing short of excellence.
This unyielding devotion to quality extends from the selection of the freshest ingredients to the skilled preparation and presentation of each dish. The culinary prowess showcased at Rampoldi is largely attributable to the talented Chef Antonio Salvatore. His stellar gastronomic creations have not only elevated the dining experience for the patrons but also garnered the restaurant a well-deserved mention in the esteemed 2021 Michelin Guide.
This recognition only cements Rampoldi's position on the culinary map, a testament to the enchanting dining experience it offers, where every meal is a celebration of Monte Carlo's luxurious lifestyle. The restaurant's timeless charm attracts an array of diners, including international celebrities and members of the royal family. A visit to Rampoldi promises not only the delight of remarkable dishes but also the chance to experience a slice of Monaco's famed Dolce Vita.
The Société des Bains de Mer (SBM) represents the epitome of Monaco's rich culinary landscape, operating a diverse range of restaurants that cater to every discerning palate. Each dining establishment under the SBM banner upholds a tradition of excellence, boasting its own unique style, gastronomic identity, and a commitment to delivering a memorable dining experience. Here are a few of the most renowned restaurants under the auspices of SBM:
Le Louis XV - Alain Ducasse at the Hôtel de Paris: This Three-Michelin-starred restaurant represents the pinnacle of Monaco's gastronomic excellence. Here, legendary chef Alain Ducasse presents an exquisite culinary symphony that captures the essence of the Riviera, crafted from the finest local produce.
Le Grill: Located on the 8th floor of the Hôtel de Paris, Le Grill offers a panoramic view of the Mediterranean, complemented by an equally impressive menu. Famous for its sliding roof that reveals the sky on beautiful days, diners can enjoy grilled meats that have built the restaurant's reputation for decades.
Le Vistamar at Hôtel Hermitage Monte-Carlo: Overlooking the port and the famous Rock of Monaco, this Michelin-starred restaurant offers a unique seafood-focused menu created by Chef Jean-Philippe Borro. The elegant dining experience is matched by the romantic atmosphere, making it a favorite among lovers.
Blue Bay at Monte-Carlo Bay Hotel & Resort: Led by Chef Marcel Ravin, this Michelin-starred restaurant presents a fusion of Caribbean and Mediterranean flavors, embodying Chef Ravin's dual cultural heritage. The unique culinary creations, alongside a beautiful view of the Mediterranean, make it a truly memorable dining experience.
Coya Monte-Carlo: In a unique partnership with SBM, Coya brings the spirit of Latin America to the heart of Monaco. With a vibrant menu that blends traditional Peruvian ingredients with an international flair, Coya offers an innovative and exciting culinary experience. The restaurant also features a live music lounge and a terrace with breathtaking views.
The Maya Collection's imprint on Monaco's dining scene is impressive, and this is evident in their unique establishments: Maya Bay, Maya Mia, and Maya Jah. Each restaurant paints a different picture, offering a unique culinary journey that takes patrons from the South of France to the exotic corners of the world.
Maya Bay is a gastronomic oasis offering an interesting fusion of Japanese and Thai cuisines. It's a unique dining space that has been meticulously designed to resemble a Thai temple on one side and a traditional Japanese room on the other. The sumptuous menu is as captivating as the decor, filled with an array of options that harmoniously blend the flavors of the East. From sashimi and sushi platters to Thai curries and salads, every dish at Maya Bay is a work of art.
Just a stone's throw away is Maya Mia, an Italian pizzeria that brings a slice of the Mediterranean to Monaco. With a casual and family-friendly ambiance, Maya Mia stands as an invitation to enjoy the simple pleasures of life: good pizza and great company. The dough is allowed to rise slowly, and the pizza is baked in a wood-fired oven, resulting in a crispy, light, and deliciously authentic pizza. In addition to pizza, Maya Mia also offers an array of classic Italian dishes, making it a perfect place for a relaxed Italian feast.
The newest addition to the collection, Maya Jah, is a Moroccan-inspired culinary heaven. The restaurant transports its guests to a distant world of oriental charm, complete with majestic archways, beautiful lanterns, and intricate Moroccan artwork. Maya Jah's menu is a testament to the rich culinary heritage of Morocco, offering tagines, couscous dishes, and a variety of flavorful mezze. With its warm atmosphere and enticing flavors, Maya Jah gives you a taste of Morocco without leaving Monaco.
The Maya Collection's diverse offerings reflect Monaco's cosmopolitan spirit. Maya Bay, Maya Mia, and Maya Jah, each in their unique way, contribute to the city-state's reputation as a global culinary hotspot, showcasing its ability to blend local traditions with international tastes.
On the other hand, the Briatore Group, led by the charismatic Italian entrepreneur Flavio Briatore, has also made significant strides in Monaco's dining scene. Two of their standout establishments are Cova and Twiga.
Cova, a renowned Milanese patisserie established in 1817, opened its doors in Monaco under the auspices of the Briatore Group. Famous for its impeccable pastries, luxurious decor, and a fascinating history, Cova Monaco offers a taste of Italian elegance and gastronomic heritage. Whether for a morning cappuccino or an afternoon aperitif, Cova's refined ambiance offers a delightful escape.
Twiga, meanwhile, brings the thrill of the night to the dining experience. By seamlessly blending a restaurant, lounge, and club, Twiga provides a unique space that evolves as the evening progresses. The menu offers a culinary journey through Japanese and Italian cuisines, leading eventually to a dancefloor where guests can party until the early hours.
Monaco's impressive gastronomic landscape is a testament to the incredible talents of the chefs, the visionary restaurateurs, and the dedicated teams that work behind the scenes to ensure that each dining experience surpasses expectations. Among these, the Giraudi Group, Monte Carlo Hospitality Group, the Société des Bains de Mer, the Maya Collection, and the Briatore Group stand at the forefront, shaping the Principality's gastronomic culture and ensuring that Monaco remains a leading destination for discerning food lovers worldwide.
Whether it's savoring a Michelin-starred meal, enjoying a slice of pizza, indulging in the warmth of a Moroccan tagine, relishing an exquisite steak, or simply having a cup of coffee in an elegantly charming setting, dining in Monaco goes beyond food. It's a celebration of lifestyle, culture, tradition, and innovation, perfectly embodying the city-state's unique character.
From luxurious interiors to breathtaking views, from intimate settings to vibrant social hotspots, Monaco's restaurant scene invites you to embrace an unparalleled dining journey. It is in these establishments that you get to taste the real Monaco – a place where culinary heritage meets modernity, where local ingredients tell global stories, and where every meal is a testament to the city's enduring love affair with gastronomy.
As the sun sets over the Mediterranean and the city lights start to twinkle, Monaco's restaurants come alive with the promise of unforgettable culinary adventures. The tables are set, the kitchens are fired up, and the chefs are ready to take you on a gastronomic journey that will excite your senses and leave an indelible mark on your palate. This is Monaco, a haven for food lovers, a beacon of culinary excellence, and indeed, a true diner's paradise.