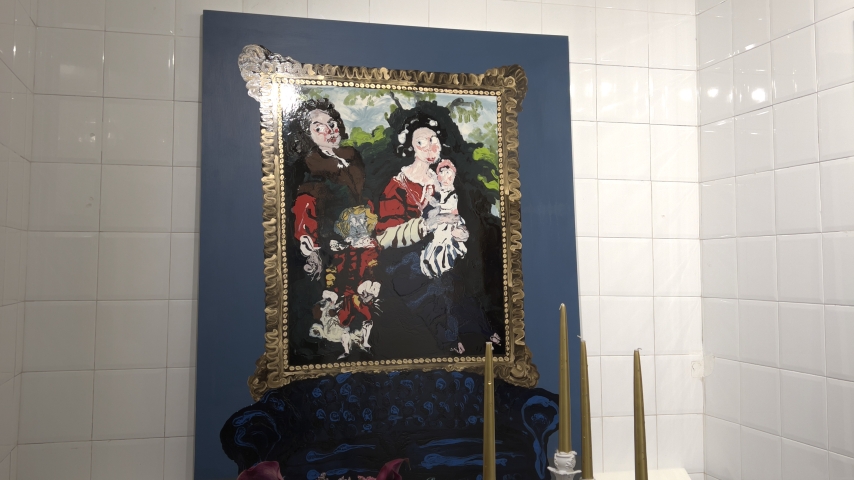 The annual Monaco Art Week is renowned for transforming the principality into a hub of cultural inspiration and exchange. Created in 2018, Monaco's cultural institutions join to offer a variety of rendezvous and events, for an exquisite exchange of synergies organized by an exhibition trail. Spread between different neighbourhoods of the Principality, visitors have the change to engage in an amusing treasure hunt, encouraging each one to explore the Monegasque cultural landscape.
As Pablo Picasso declared in 1954: « After Matisse, Chagall will be the only painter to understand what colour really is », and that is exactly why Sotheby's held a private selling exhibition dedicated solely to 21 resplendent works of art by Marc Chagall. Known for his unique fusion of symbolism, fauvism, and surrealism, the artist keenly endures in engaging his viewer into his way of storytelling and lyricism. For an evening, attendees had the unique opportunity to immerse themselves in a vibrant, dreamlike world, through the eyes of the expressionist master. The works were a collection highlighting on the artist's last three decades spent in the South of France. Without a doubt, The Sotheby's Monaco gallery stands firmly in bringing to surface the exceptional works of art, design, and luxury in a curated setting.
A Carré d'Or based gallery, the YellowKorner Monte Carlo, showcases a multitude of artistic disciplines with an emphasis on exceptional talent, diversity and cultural relevance. This week they have partnered up with HOFA (House Of Fine Art) of London, to excel their spotlight onto Irish artist Mary Ronayne. Filled with an array of brightly coloured canvases, Ronayne cultivates humor, wit and pleasure, working with ludicrous elements and vibrant colours creating works that celebrate the mutability of time, identity and life. The "Utopian Portraits" exposition played out an enchanting blend of reality and quaintness, with scenes drawn from historical narratives and classical literature, enduring in the elements of humanity in a carefree spirit. In a captivating manner of her own, Ronayne arouses her viewers to remember the genuine sensation of a riviera lifestyle.
The Opera Gallery in Monte Carlo is one of the 16 galleries founded by Gilles Dyan. "This annual event is one of the most important of the group. It allows us to show in one place the major pieces from our various galleries", says Gilles. The modern and contemporary art gallery has spread its roots in top art destinations from New York to London and from Dubai to Seoul. Experts in curation of high calibre, The Opera Gallery highlighted around 50 of their up-to-the-moment masterpieces by the most outstanding masters of contemporary art. Among the array of beautiful paintings and exquisite sculptures presented was a diversity of names such as Joan Miro and Pablo Picasso integrated with modern-day artists such as Yayoi Kusama and Anthony James. The high-end superiority of presentation, space and engagement gives visitors an intimate approach to discover the true, dynamic and complex nature of the art world.
In a week that embraced a multitude of artistic expressions and dialogues, the 2023 Monaco Art Week illuminated the city in a vibrant display of cultural enrichment. It affirmed the Principality's status as a leading light in the global art scene, a place where the power of art is celebrated in all its forms. Through the canvas of the "Utopian Portraits," the diverse offerings of the Opera Gallery, and many others, Monaco has once again accentuated its commitment to raising inspiration and promoting the joy of artistic discovery.