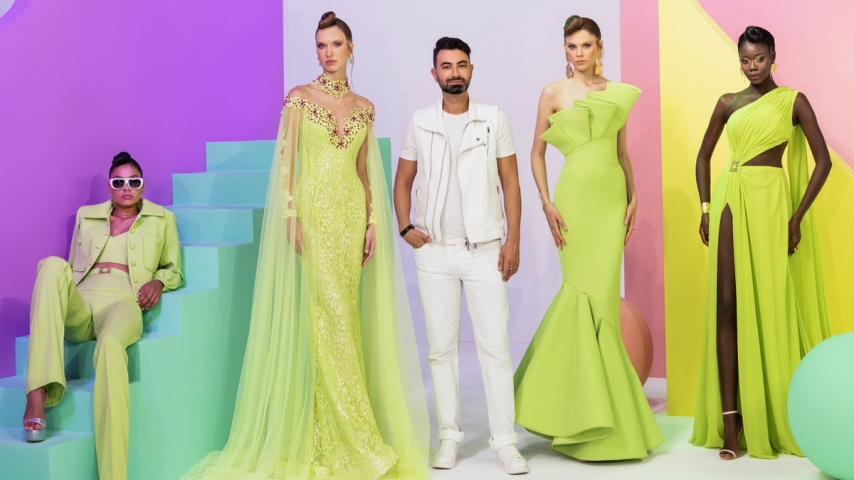 Paris, the city of lights, has always been a melting pot of fashion, art, and culture. This season, during Paris Fashion Week, two designers - one from the Middle East and the other from India - showcased their unique talents, leaving an indelible mark on the global fashion scene.
Naja Saade's journey from the medical field to the fashion world is nothing short of cinematic. Once a radiologist in Lebanon, Saade made a dramatic shift, transitioning from the clinical world to the glamorous runways of Paris. His brand, now a household name in the fashion industry, has been making waves with its distinctive designs and innovative approach. His Spring-Summer 2024 collection, "Life In Colors," was a vibrant homage to life's myriad hues. The collection, with its minimalist designs, allowed the colors to shine, capturing the essence of life's kaleidoscope. As Saade remarked, "Life In Colors is an ode to the world's vibrant tapestry."
Vaishali Shadangule, the creative force behind Vaishali Studio, made a triumphant return to Paris. As the first-ever Indian woman designer to grace the official haute couture calendar, her name resonates deeply within the Parisian fashion scene. This season, she showcased "Ancestral Threads," a collection that celebrates traditional Indian weaves. With fabrics sourced from West Bengal, Karnataka, and the famed Kota Doriya, her designs are a testament to India's rich textile heritage. Vaishali's brand, established in 2001, has been pivotal in giving Indian handloom weaves a global platform. Reflecting on her Paris showcase, Vaishali shared, "Paris has always inspired me. Showcasing 'Ancestral Threads' here feels like a full-circle moment, especially as I think about the global appreciation for Indian handloom." With accolades like the Edida Award and Indian Designer of the Year under her belt, Vaishali's star continues to rise. She's now gearing up for couture week in Paris this January, promising a collection that melds her signature aesthetics with European sensibilities.
As the curtains fall on another Paris Fashion Week, the contributions of designers like Naja Saade and Vaishali Shadangule stand out. Their stories, marked by passion, determination, and a deep love for their craft, serve as an inspiration for budding designers worldwide. In the ever-evolving world of fashion, their voices resonate, reminding us of the power of authenticity and the beauty of diverse perspectives.
Vaishali Shadangule, the creative force behind Vaishali Studio