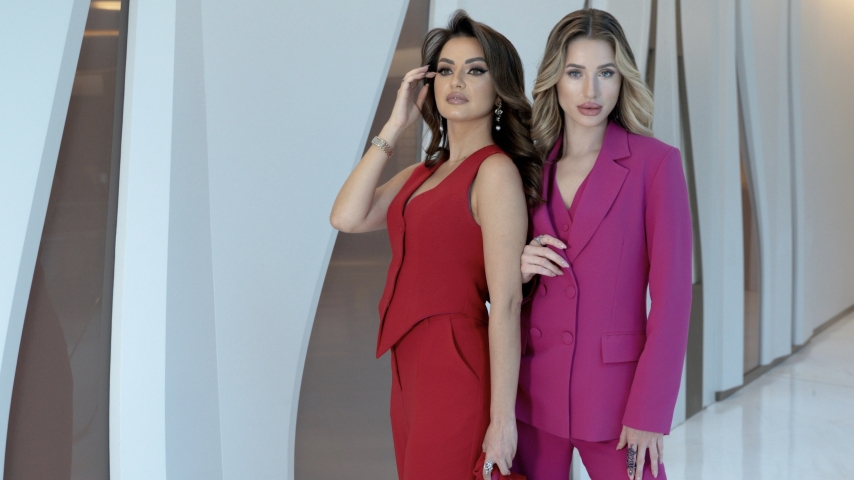 Interview with the Founders of the New Empowering Fashion Brand Alina Dyachenko and Maryna Mazarine.
With its elegant and classic designs and the inspiration of making POWER SUITS FOR POWER WOMEN, the new high-fashion capsule collection Chic Icon by Mazarine aims to empower women. This new venture, which was established by Alina Dyachenko and Maryna Mazarine, is committed to utilizing only the best materials and developing unique designs for ladies who want to look flawless and confident on any occasion. The collection epitomizes precise premium design thanks to Alina's experience in the luxury industry with her world-known luxury lifestyle magazine Chic Icon and Marina's knowledge of slow fashion with her premium brand Fashion House Mazarine.
We met with Alina and Maryna in Dubai where they are based to talk about the brand identity and its mission to empower women all over the world.
Chic Icon: What inspired you to create Chic Icon by Mazarine, and how did you come up with the idea of power suits for power women?
Alina: I get lots of inspiration from the elegance and beauty of vintage looks. I'm equally in love with Greta Garbo's suit looks from the 30s, and Yves Saint Laurent's first tuxedo from the 60s. I've always admired the timeless designs of vintage fashion suits by Balenciaga, Dior, and Chanel, and being a big fan of the high bespoke standards and rich culture of Savile Row of course. The problem was I could never find something equally elegant, sophisticated, and timeless in modern collections for women. It's very hard to find a high-standard women suit's tailor with elegant and classy designs. That's why I thought that I have to create it myself. That's how the idea of Chic Icon by Mazarine was born.
Maryna: I was inspired by all the successful women who surround me. Being a businesswoman myself, I know how important is to choose the right outfit for the day, when you have a lot of meetings so that you feel confident and beautiful at the same time. If you have the right suit in your wardrobe, you can present yourself well through the day regardless of where you go, whether it's a business meeting or a dinner in a fancy restaurant. Chic Icon by Mazarine is a capsule collection of suits that empower women, who have an active lifestyle, and help them to feel like a million dollars, regardless of what they do throughout their day.
Chic Icon: What sets Chic Icon by Mazarine apart from other high fashion brands?
Alina: We have a unique message that a woman is capable of anything! A woman who wears our brand is truly empowering, but at the same time feminine, and can easily shift from a lady boss role in the morning to a diva in the evening with our designs.
We use only the most luxurious textiles and best tailors, so you can compare our quality to couture brands from Italy or France, but at the same time, we offer truly unique colors and models that are hard or even impossible to find in similar quality and price.
Chic Icon: Could you describe the design process behind creating each model in the collection?
Maryna: At first every model is created in our imagination. Further, we do sketches and think of different materials that could highlight the perfect lines of each model. Finding high-quality fabrics is a priority for us.
After a careful selection from many possible designs, we give the most interesting one to the team of professional tailors and cutting
masters to create the first prototype. After all the changes, we analyze the fit and other features of the product. It can take from 2 days up to 2 weeks to design one model and to make it perfect. Everything depends on the complexity of the desired style.
Chic Icon: How do you envision Chic Icon by Mazarine evolving in the future?
Alina: We are planning to introduce each model and color slowly to the public as all the pieces are limited edition, so by November 2023 we have the full set of 6 unique timeless pieces that you can even wear in 10 years and still look fashionable & elegant without any quality compromise. We also plan a few exciting collaborations and events in Dubai before the end of the year. Looking forward to seeing the first reaction to our capsule collection, and of course, dreaming of creating a new edition for the next year.
Chic Icon: What message would you like to convey to women who wear Chic Icon by Mazarine?
Maryna: Our goal is to make women feel confident in themselves and the power suits of Chic Icon by Mazarine collection will help them with that. Every woman should believe in herself, follow her dreams and work hard to make them happen because everything is possible if you set the right intention for it.
You can buy limited edition suits Chic Icon by Mazarine here:
https://mazarineofficial.com/chic-icon-collection/
Instagram: https://www.instagram.com/chiciconbymazarine/
This article is protected under the copyright of Monaco Voice. Unauthorized reprinting, republishing, or rewriting of this content is strictly prohibited without explicit permission from Monaco Voice. Quotations from this material are permissible provided that a direct link to the full article on Monaco Voice is included.