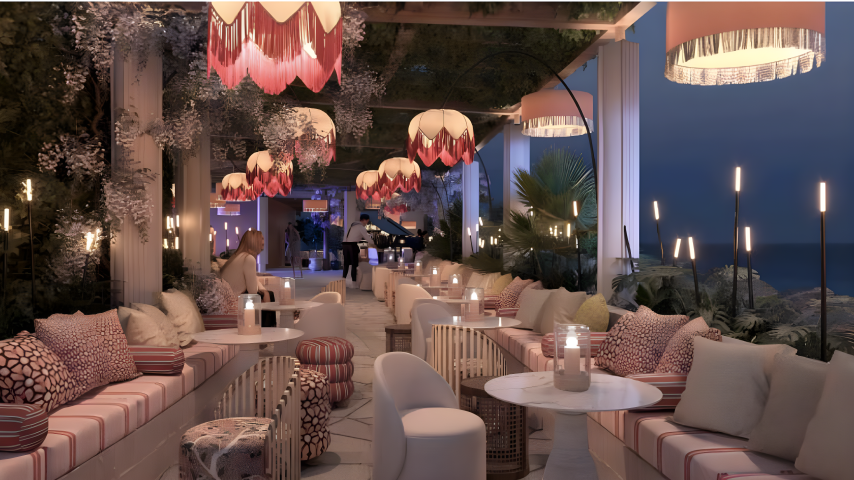 The French Riviera, from Saint-Tropez to Monaco and through Cannes, is rekindling the captivating allure of the Mediterranean dolce vita. In the spotlight of this renewed enchantment is Monte-Carlo Société des Bains de Mer. Known for their luxurious and diverse venues, they're once again captivating audiences with their meticulously crafted experiences, offering a unique blend of enchantment, elegance, and excitement.
The 2023 season sees the advent of Maona Monte-Carlo, an open-air summer cabaret debuting in July. The venue, located near the iconic Monte-Carlo Beach, is set to be the Principality's newest gem, intertwining the vivacious spirit of the 60s and 70s, immortalized by icons such as Maria Callas and Aristotle Onassis, with the elegance of La Dolce Vita. Its exquisite location, perched on a villa-terrace overlooking the Mediterranean Sea beneath the starry sky, offers an unparalleled backdrop for an unforgettable night of entertainment.
Maona Monte-Carlo celebrates not only the allure of a bygone era but also the rich culinary heritage of Monaco. Collaborating with the staff of Monte-Carlo Société des Bains de Mer, their families, and Christian Garcia, the chef at the Prince's Palace, Maona presents a menu that celebrates and elevates local cuisine, showcasing traditional dishes such as barbajuans and estocaficada.
Complementing this culinary experience is the Bar Sauvage, a lounge bar fusing art, mixology, and joie de vivre in an inviting, laid-back setting. Under the guidance of award-winning bartender Giancarlo Mancino, Bar Sauvage offers an exquisite selection of signature cocktails, rare spirits, and exclusive recipes, promising an unforgettable gustatory experience.
Another highlight of this season is the reopening of Club La Vigie Monte-Carlo on June 7. Tucked amidst pine trees and overlooking the sea, the club offers an idyllic space for daytime relaxation and celebration. In addition to the soothing beats of resident DJ Supa Ju, guests can indulge in a summer menu created by two-star Michelin chef Marcel Ravin, featuring fresh Mediterranean dishes that underscore his dedication to local produce and flavors.
As the summer progresses, Monte-Carlo Société des Bains de Mer will continue to deliver outstanding experiences at its already established venues such as COYA Monte-Carlo, Buddha-Bar Monte-Carlo, and Jimmy'z Monte-Carlo. Each of these venues complements the others, collectively cementing Monte-Carlo Société des Bains de Mer's reputation as the most sought-after party destination on the Riviera. This new chapter of the Art of celebration captures a sense of timeless elegance while remaining firmly rooted in the present, offering modern, multifaceted experiences that cater to a diverse array of tastes and moods. From the azure coastline of Larvotto to the buzzing energy of the new Place du Casino, Monte-Carlo Société des Bains de Mer invites everyone to join in the renewed spirit of celebration.