Daria Romanenko dishes on managing a fashion magazine in Monaco.
It twas love at first sight. "Monaco is like a fairytale with its beautiful scenery, happy people and sun and sea," says Daria Romanenkoco-owner of L'Officel Monaco, the franchise of the French fashion magazine first published in Paris in 1921.
Born and raised in Moscow, Romanenko credits her journey to Monaco to her "loving family" who provided her with a solid education and opportunities to travel and meet inspiring people. "When I was 15, my parents sent me to study at boarding school in Switzerland. Separation from my homeland was and is still one of the hardest things for me," admits the 31-year-old.
Romanenko stayed on in Switzerland and picked up a Masters in Human Resources Management at Webster University Geneva, which is where she met her husband, Maxim. "To be frank, I never dreamt about a career or conquering the world. All I ever wanted was to be a wife and mother."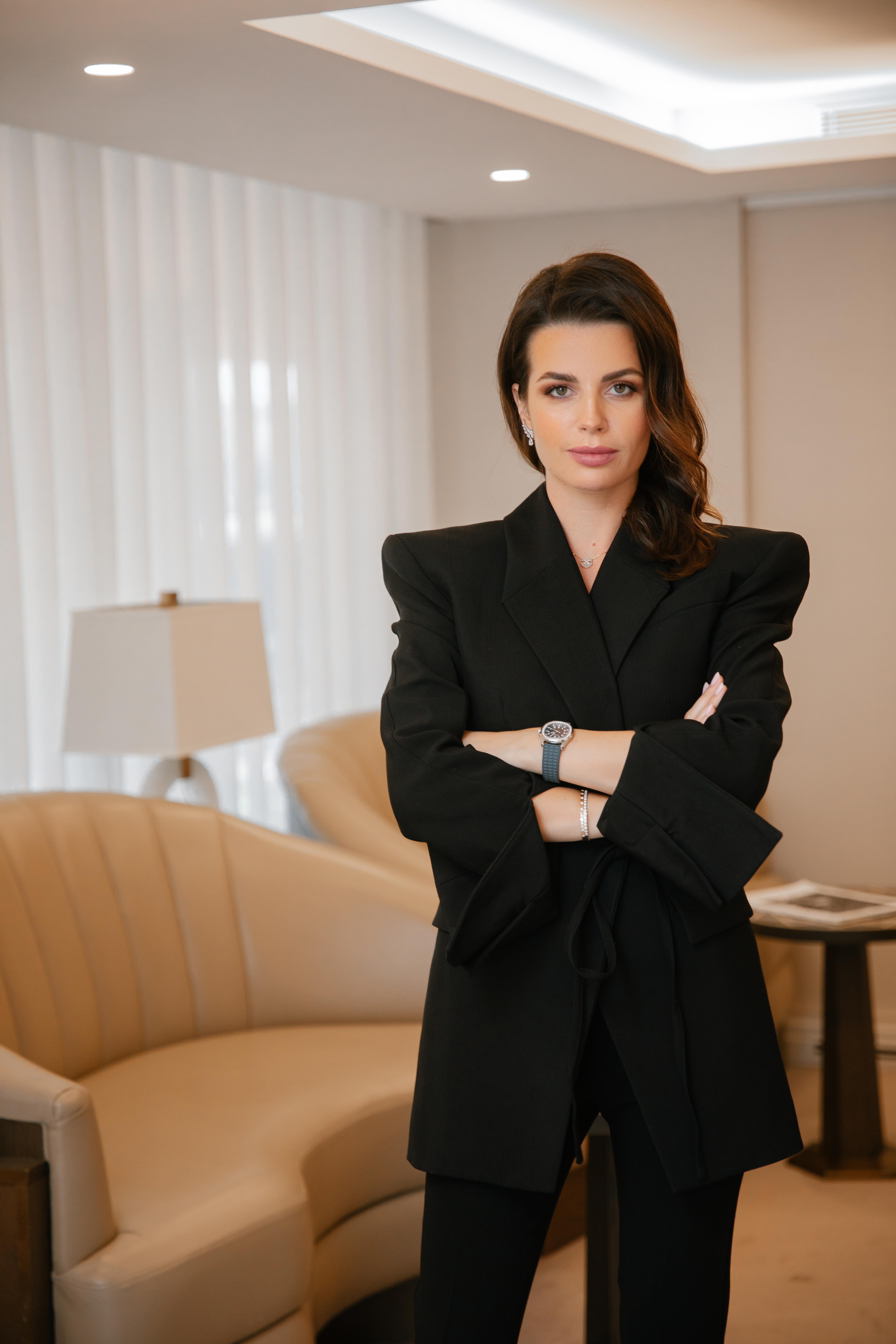 The safe environment for raising a family is what attracted Romanenko and her husband to the Principality. "After graduation, I was soon pregnant and we no longer wanted to stay in Geneva. Monaco was the one and only place where we could see ourselves living and starting the family that we dreamt of so much. Monaco is an amazing place to live with children. I consider ourselves very fortunate to be part of Monegasque society and for our children to be born and raised here."
Although Romanenko admits she was not career driven, six months after giving birth to her first child she realized, "I could not just sit at home, I needed to do something big and wanted my family to be proud of me." Soon after this aha moment, Romanenko had the opportunity to buy the local franchise of L'Officiel, which targets upper-income, educated women ages 25 to 49. It is the only global fashion magazine title with a Monaco-specific edition.
"We launched the first issue in December 2020 but it was a very difficult time due to Covid restrictions. Now it is business as usual and we held our first event in December
in collaboration with Faidee, the world's only jewelry company dealing exclusively with Burmese rubies." Romanenko adds the goal for 2023 is to have a minimum of two events to present beauty and fashion to Monaco in collaboration with other brands. Long-term development includes widening distribution to other countries and further focus on events in and outside of Monaco
"We want to show the world that Monaco is not only about its usual portrayal of money and expensive clothes, but it is also home to culture, fashion, interesting business projects and family life. It's a country that never stops growing." Which is why when it comes to the cover story, Romanenko and her team are very careful on who they choose for the print version of the magazine. "We want L'Officiel Monaco to be a high- end fashion magazine with only models, famous actors and influencers on the cover for the print edition."
Four editions of 10,000 copies are printed each year by Mylitta Monaco Group with distribution to hotels, beauty salons, private residents and kiosks is both Monaco and the South of France. The print edition (€9.90) is only in English covering every subject from fashion and beauty to travel and business but articles in French can be found online. Already the publication has more than 30,000 Instagram followers, which Romanenko describes as "mostly female but surprisingly 30% male. In my opinion this is a lot for a fashion magazine."
The L'Officiel Monaco masthead is made up of ten people with outside contributions from writers and photographers. As publisher and managing editor Romanenko says, "I highly appreciate my team members and partners. We make all the decisions together, and I believe that sincere and healthy teamwork is super important for motivation and results. That being said, I think I could be a little stricter at times.
"For me, editor-in-chief of Vogue U.S. Anna Wintour is the icon of the publishing world. She is beautiful, inventive and super professional."
As a mother of two and respected peer in her community, a soft-spoken Romanenko prefers to stay positive no matter what life challenges she faces. "I am a very fortunate person and even with a few small obstacles along the way, I consider them lessons and have enjoyed the experiences."