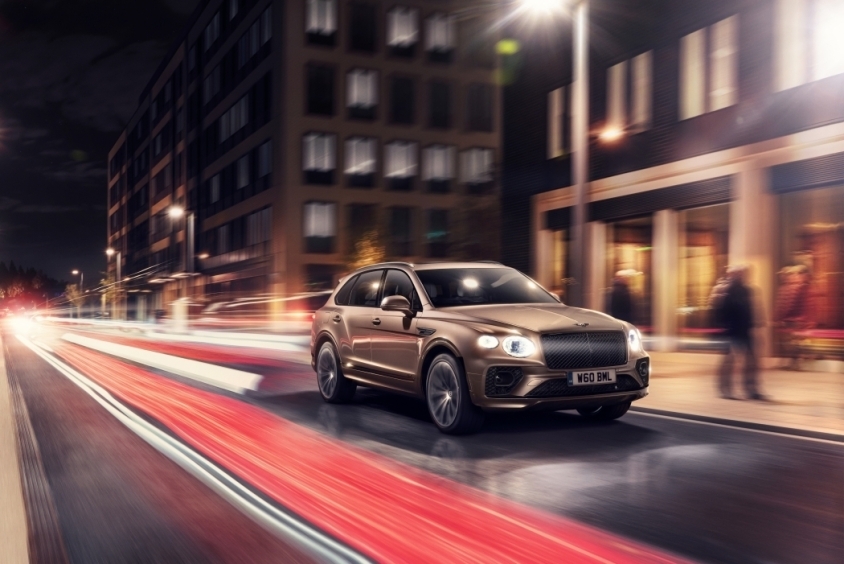 The only electrified true-luxury SUV in the world, Bentley is betting on the Bentayga Hybrid as a bestseller.
In a bid to become a "wholly ethical role model", Bentley Motors is aiming to be 100% petrol-free by 2030. And if the Bentayga Hybrid is a sign of what's to come from the Crewe- based luxury car maker, then the future is electric. As Adrian Hallmark, chairman and chief executive office of Bentley Motors, put it, "Within a decade, Bentley will transform from a 100-year-old luxury car company to a new, sustainable, wholly ethical role model for luxury."
Two Bentley models are already available with hybrid powertrains: the Flying Spur Hybrid and Bentayga Hybrid. Following the launch of the Bentayga V8 and Bentayga Speed last summer, the Bentayga Hybrid is the third model in the most successful luxury SUV portfolio the segment has ever seen and, more impressively,the only electrified true- luxury SUV in the world. Bentley predicts the model will become the best-selling member of the Bentayga family.
The Bentayga Hybrid offers the ultimate in electric luxury, with smooth and silent progress while having the grand touring capability to escape the city and explore further, using up to 40 km of electric-only range (WLTP), before physically leaving the city behind with the comfort of a total combined range of 693 km (WLTP).
With the very latest on-board technology and an even more cosseting cabin, the new Bentayga is significantly revised both inside and out from the previous generation. Subtle exterior badging complements the Bentayga's exterior design now prevalent across the entire model range, giving Bentley the freshest and most modern product family of any luxury car company.
A dedicated button allows control over the three E Modes—EV Drive, Hybrid Mode and Hold Mode—which enable the driver to manually manage battery usage during a journey although this can also be managed automatically by the car. The E Motor is partnered with a 3.0 liter twin-scroll turbocharged V6 petrol engine delivering 443 bhp (449 PS) and 516 lb.ft (700 Nm) of torque.
The Hybrid Efficiency Accelerator Pedal provides a pressure point when in EV Drive to denote the boundary between pure electric and hybrid power. This encourages the driver to stay in EV Drive for as long as possible but can also be disabled if required. The Hybrid Efficiency Braking blends seamless integration of braking between the E Motor and conventional hydraulic braking to provide a conventional feel to the brake pedal for comfort and the driving experience while maximizing recuperation of energy.
Founded in 1919, the luxury carmaker says they "have already made enormous strides towards reinventing our historic Crewe site, and creating an industry-leading certified carbon neutral factory. This will be the basis of reducing Bentley's carbon footprint across all products and non- factory operations, in line with Bentley's commitment to be carbon neutral by 2030."
On their "accelerated journey towards electrification," it is clear that the Bentayga Hybrid is driving the company to become a "global leader in sustainable luxury mobility."