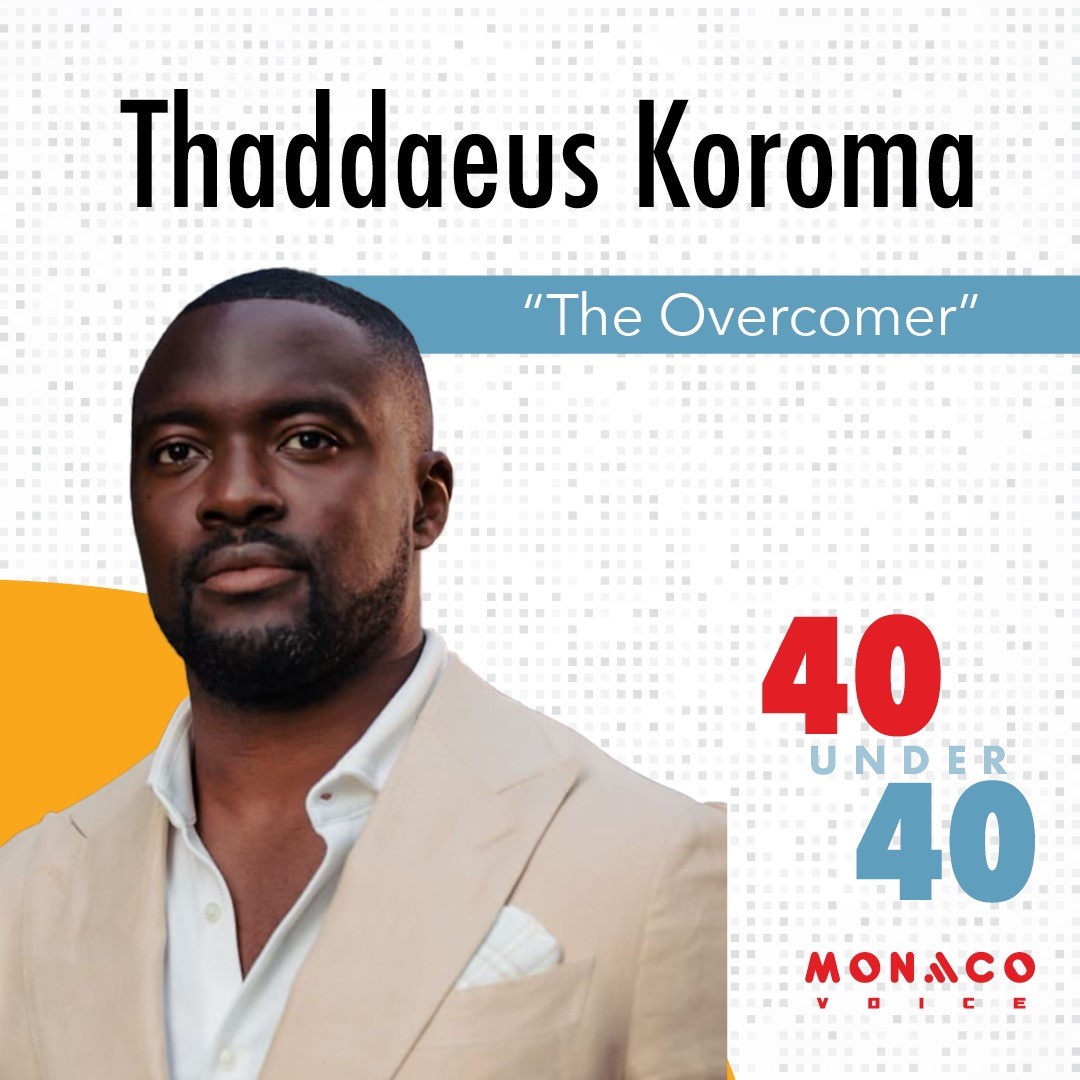 As one gazes into the heart of a gemstone, its brilliance, luster, and form captivate the senses. The complexities of its creation, years of time, immense pressure, and a nurturing environment, are all integral in birthing such marvels. To transcend their primal state, these crystals must be given space to grow, to morph into the invaluable treasures we admire. As the earth spins and its crust shifts, the story of Thaddaeus Koroma, a man sculpted by similar trials and tribulations, comes to light.
Thaddaeus is no ordinary figure. His life bears resemblance to the formation of a gem, pressured into existence, his luster amplified with time. A triumphant journey that has led him to become a recognized figure among the Monaco 40 under 40 recipients.
Thaddaeus' early days were spent nestled in the heart of a poor neighborhood in Berlin, where his immigrant parents fostered dreams of a better life. His formative years were imbued with a passion for basketball, an enchantment that prompted him to cross the Atlantic, seeking mastery in the land of its pioneers. Unfortunately, a career-ending injury dashed his NBA aspirations, prompting him to reassess and reconstruct his dreams.
Being familiar with hardship, Thaddaeus didn't allow his spirit to wane in the face of adversity. Instead, he was fortified by an undying belief in himself, a trait he accredits to the unconditional love and faith of those who surrounded him. Thaddaeus believes that reality is an ever-moving train that we must either board or alter our expectations of. He carried this understanding through his tribulations, using each challenge as a pivot point to reposition himself.
Adopting the mentality of a chess player, Thaddaeus approached life with a strategic mindset. He understood that even when the odds were against him, the next best move was still within his grasp. For Thaddaeus, surrender was never an option. He devoted himself to analyzing the chessboard of life and learning from his losses.
Finding himself bereft of a steady income, devoid of contacts, and lacking business acumen, Thaddaeus returned to Germany. His first entrepreneurial venture, a promotional marketing agency, never quite took off. Undeterred, he spent the subsequent six years laying a solid foundation for his dream venture, Limit Breakers.
An intriguing part of Thaddaeus' philosophy is his dismissal of motivation as a fleeting phenomenon. Instead, he places emphasis on discipline and resilience under pressure. In his eyes, one's true measure lies not in how they perform when the winds are favorable, but rather how they navigate through the stormy seas.
Through years of relentless effort and unwavering perseverance, he reached a significant turning point in 2016. A meeting with a successful entrepreneur set the gears in motion for Thaddaeus to elevate his own enterprise. He took a bold initiative of assisting friends with personal brands to amplify their business, all without upfront costs. His approach unlocked a realm of limitless possibilities across various industries worldwide.
Thaddaeus operates with an innate desire to collaborate with the best, those who inspire him, linking high net worth individuals and celebrities with potential opportunities, and then steering the transactions. Much like a sports manager assembles a star-studded lineup, his mission is to bring the top players to the table, invest in them, and augment their value.
The philanthropic underpinnings of Thaddaeus' identity are just as impressive. Raised in an immigrant household steeped in love, he is committed to be a beacon of hope, particularly for children. In line with this mission, he founded Garden Eden Global, an innovative profit generator for existing non-profits.
With Garden Eden Global, he employs the same blueprint as with Limit Breakers: bolster NGOs that are already doing commendable work with necessary resources to enhance their impact. This initiative resonates with his personal experience of being lovingly cared for by a German family when his mother was ill.
Thaddaeus radiates a contagious optimism, an enduring faith in the goodness of humanity. He is passionate about amplifying the voices of the many remarkable individuals whose stories remain untold. For Thaddaeus, the world is a canvas of endless possibilities waiting to be explored.
His recipe for success is available for everyone to embrace:
Trust in yourself rather than the circumstances. Assemble an extraordinary team. Humility is key; the line between victory and defeat is often blurred. Lift others when you rise, and when you stumble, identify the lessons for future endeavors.
Above all, execution is paramount!
Thaddaeus Koroma, known as "The Overcomer," has proven time and again his extraordinary ability to conquer challenges and emerge victorious. His relentless determination, unwavering resilience, and unwavering spirit have earned him the well-deserved nickname. It is through his exceptional ability to overcome adversity and turn hardships into opportunities that Thaddaeus has been chosen as a Monaco 40 under 40 awardee. This prestigious recognition acknowledges his remarkable journey, his outstanding achievements as an entrepreneur and athlete, and his unwavering commitment to making a positive impact on the world. Thaddaeus Koroma, "The Overcomer," stands as a shining example of perseverance, resilience, and triumph, inspiring others to embrace their own power to overcome and achieve greatness.