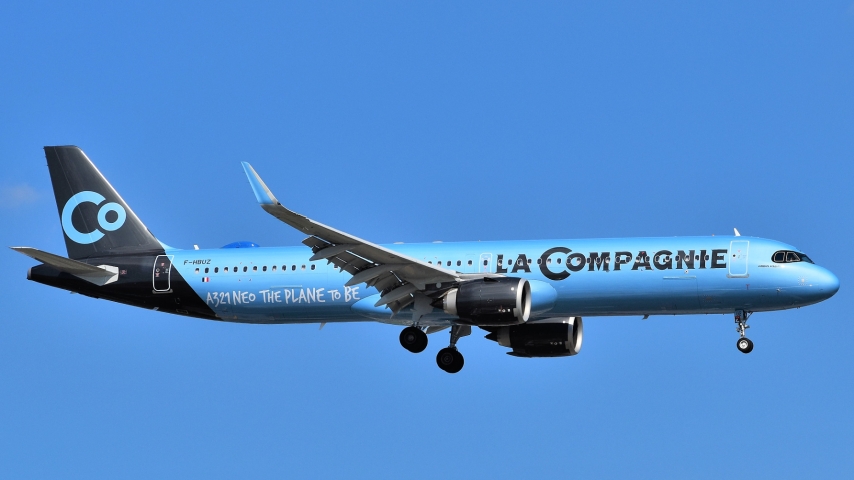 THE AIRLINE RESUMES ITS 100% BUSINESS CLASS SERVICE FROM NICE TO NEW YORK ON APRIL 16, 2023
On Tuesday April 4, 2023, La Compagnie, the French 100% Smart Business Class airline, brought together Côte d'Azur tourism professionals the rooftop of the Hôtel Belle Plage in Cannes to celebrate the reopening of its seasonal service between Nice and New York.
As it has done every year since 2019, the French airline will operate up to four flights per week on this route from April 16 to September 28, 2023 aboard its new September 2023 aboard its new Airbus A321neo aircraft. On each flight, the aircraft will offer 76 seat-beds (where the usual layout
240 seats, free unlimited high-speed Wi-Fi and a healthy, seasonal culinary offering for a unique business class experience.
In addition to its comfort, the A321neo offers long-haul flights with a reduced carbon footprint, consuming 35% less fuel per business passenger than any other aircraft on the aircraft on the same route. "We are delighted to be back on the Côte d'Azur for the third summer. After an exceptional 2022 season with a load factor of nearly 80% in June and July, we are once again seeing a real craze among American customers for the for the Côte d'Azur destination. The desire for an exceptional travel experience is more than ever in evidence.
Our quality product, on board a modern aircraft and with an excellent price/quality ratio, is attracting many demanding customers demanding customers. This is why we have added 1 additional weekly flight to the destination this year and intend to strengthen our presence over the next 2 summers", says Christian Vernet, President of La Compagnie.
La Compagnie will also be promoting the Côte d'Azur's art of living and know-how throughout the summer with events on board its flights In May, the Résine Esterel Azur association, which specializes in upcycling, made La Compagnie's comfort kits from the tarpaulins of the Cannes Festival Center.
The Palais des Festivals in Cannes and the Telmont Champagne brand, official partner of the Cannes Festival, will offer a vintage aperitif will offer a vintage aperitif to passengers on the May 19 flight. In June, the Tourteaux brothers, from Nice's two-starred starred restaurant Flaveur**, will offer a 2-star menu to all La Compagnie passengers departing from Nice. In July, Emanuele Balestra, mixologist at the Hotel Barrière Le Majestic Cannes, will celebrate the American national holiday with two original original creations for the aperitif.
"Organizing events on board our aircraft is in our DNA. We are committed to promoting the French art of living. We are fortunate to work with very dynamic partners on the Côte d'Azur. The program for the first few months has been finalized, but we will be adding to it in August and September, » adds Anne Crespo, Director of Sales & Marketing.
To celebrate its return to the Côte d'Azur, La Compagnie is offering a special offer from April 4 to 16, 2022 at the exceptional rate of €1,400 return per person on sale at www.lacompagnie.com, on 0 892 230 240 or through your travel agent.
**************
About La Compagnie
La Compagnie is the French scheduled airline which, since July 21, 2014, has reinvented the Business Class into a unique and human-sized experience between Paris and New York, and since May 5, 2019 between Nice and New York. The airline offers up to two daily 100% business class flights at competitive prices to attract and satisfy a demanding clientele looking for a different experience. On board, passengers enjoy the comfort of 76 seats that recline into perfectly flat beds innovative entertainment system, free and unlimited access to high-speed WiFi and seasonal menus prepared by French menus prepared by renowned French chefs.
Press contact
MCA Communication
Marie-Carole Ancelin- de la Chapelle and Anaïs Hauwel
mca.com@wanadoo.fr / anais.mca@orange.fr
T: +33 (0)1 58 36 03 45 / +33 (0)6 20 37 74 13