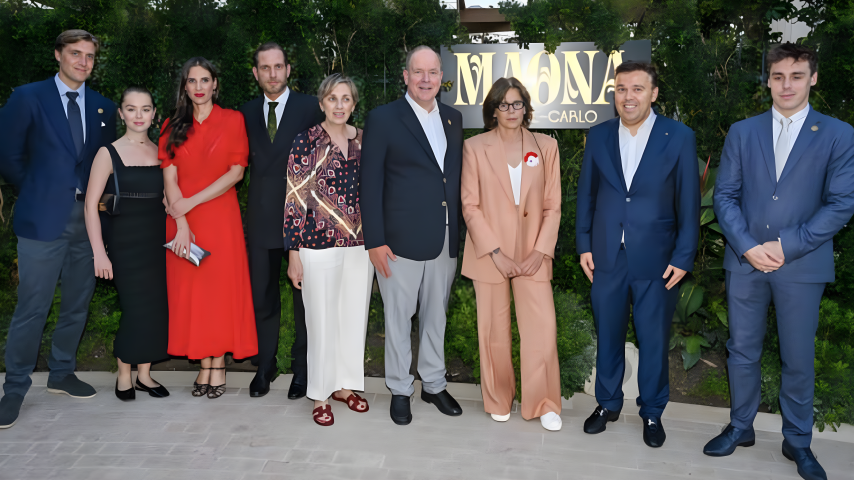 On Tuesday, July 4th, H.S.H. Prince Albert II officially ushered in a new chapter of Monte-Carlo's social scene by inaugurating the eagerly awaited Maona Monte-Carlo. Joining him in the ceremony were Stéphane Valeri, Chairman and CEO of Monte-Carlo Société des Bains de Mer, and Danièle Garcelon, General Manager of Monte-Carlo Beach.
Maona Monte-Carlo: An Ode to the Golden Era of Monaco
Born under the same starry Riviera sky where the original club stood in 1962, the reincarnation of Maona Monte-Carlo brings back the glory days of the 60s and 70s in the Principality. The rebirth of this festive venue by Monte-Carlo Société des Bains de Mer is a celebration of Monaco's rich heritage, embodied in the gentle lifestyle, the party culture, and the gastronomic tradition.
As a nod to the past, the new Maona Monte-Carlo revives the legacy of its iconic namesakes – 'Ma' from Maria Callas and 'Ona' from Aristotle Onassis – alongside the numerous celebrities who frequented the club, including Jerry Lewis, Joséphine Baker, and Johnny Hallyday. As we step into July 2023, Maona Monte-Carlo is primed to write new legends.
A Confluence of Local Cuisine and Masterful Mixology
At the heart of Maona Monte-Carlo is a commitment to Monaco's culinary identity. By incorporating family recipes typical of the region, Maona Monte-Carlo elevates the local classics, offering dishes abundant with sunny flavors. From lobster risotto to chef Vincenzo Giordano's secret minute pasta, the menu is an irresistible homage to the Italian Riviera.
For those seeking to savor innovative cocktails, Bar Sauvage hosts creations by world-renowned bartender Giancarlo Mancino, including the unique Negroni Monte-Carlo 1956. This specialty drink, dedicated to the wedding year of H.S.H Prince Rainier and Grace Kelly, is a one-of-a-kind blend of London dry gin from the 1950s, a 1956 Amer, and a vermouth of the same year.
Beats of the Past, Rhythm of the Present
The musical identity of Maona Monte-Carlo, crafted by "Belle Epoque", the label of the electro collective Bon Entendeur, weaves a nostalgic yet contemporary sound. From 7pm to 8pm, the rhythm of the French and Italian sixties seeps in, paving the way for live piano sessions, soulful vocal performances, and an electro-disco DJ set, stretching the night till 2am.
Designing a Walk Down Memory Lane
Laurent Maugoust, a famed interior designer, has styled Maona Monte-Carlo to resemble a Mediterranean villa in the 60s and 70s. To further cement the theme, he commissioned artist Aurore de La Morinerie to create an original fresco, while also designing the menus and presentation dishes. The venue stays true to its roots by showcasing the photographic heritage of the original Maona, fostering an authentic and nostalgic atmosphere.
Maona Monte-Carlo is the latest addition to the vibrant social landscape of Monaco, alongside Club la Vigie, which opened in June. With these new venues, Monte-Carlo Société des Bains de Mer is once again shaping the art of celebration, following in the footsteps of the iconic Jimmy'z Monte-Carlo, COYA Monte-Carlo, Buddha Bar Monte-Carlo, and the eternal Casino de Monte-Carlo.
"We are very proud to introduce Moanoa Monte-Carlo, a new brand that manifests our Group's gastronomic expertise, historical and cultural heritage, and festive spirit. I want to express my gratitude to everyone involved in making this venue an unmissable summer destination in Monaco," said Stéphane Valeri, Chairman and CEO of Monte-Carlo Société des Bains de Mer.
Opening Details and Contact Information
Maona Monte-Carlo will be open from 1st July to 1st October 2023, from 7pm to 2am. It will be closed on Tuesdays from 4th July to 3rd September, and on Tuesdays and Wednesdays from 3rd September to 1st October. For inquiries and reservations, call +377 98 06 56 00 or visit https://www.montecarlosbm.com/en/restaurant/maona-monte-carlo.