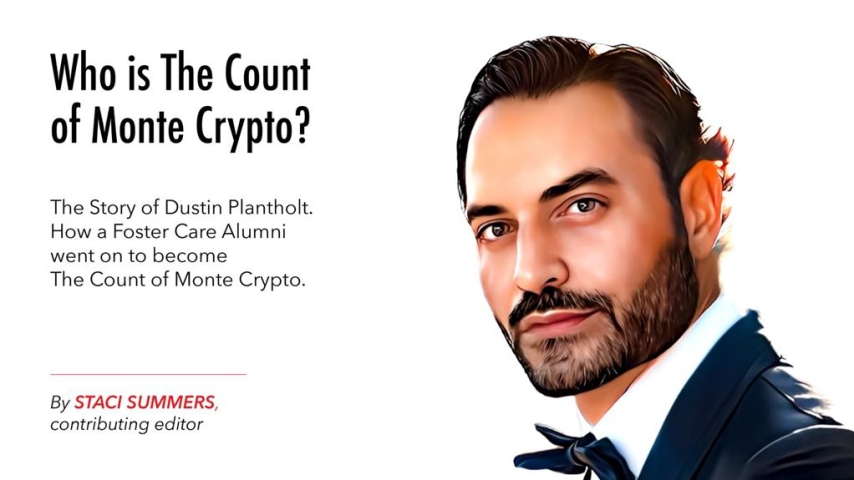 An inside look at the making of Dustin Plantholt. Get to know the Man, The Count of Monte Crypto, and what he learned through it all.

Like many entrepreneurs, Dustin Plantholt, known to many as The Count of Monte Crypto, rose from humble beginnings, and continues to remain true to his vision of changing the world one heart at a time. His chief aim is to inspire others to turn their dreams into reality no matter where they start. He knows from experience that one's past does not determine one's future, rather each person's potential is unlimited.

The Count has won numerous awards, such as the prestigious Entrepreneur.com Metaverse Advisor of the Year and a Forbes Monaco 40 under 40. He's founded multiple companies including LifesTough.com, Crypterns, and MonteCrypto, and is a board advisor to the March of Dimes, Pan Logos Foundation, and European Women's Association. He's earned a 32nd degree in Scottish Rite Freemasonry, started a lobbying practice in Washington DC and is an Amazon Prime Documentary Executive Producer and narrator for Audible. Dustin has channeled fortitude, perseverance, and a clear focus to successfully exit two startups and achieve his goals—all before his 40th birthday.

These days The Count rubs elbows with billionaires, royals, celebrities and movers and shakers across industries, a far cry from his impoverished childhood in a town called Rainbow on the outskirts of the resort town Temecula, California.

As a toddler, his mother left the young Dustin and his sister Tennille with their father, who often ran into trouble with the law. He remembers his father having three sources of income: welfare, construction, and stealing cars. His early childhood was, as he remembers, not like most other families as he and his sister bounced around from one foster family to the next.

In contrast, his teenage years were closer to those of most teens. Though he was not a great student, Dustin learned valuable life lessons through setbacks, like many kids that age. His first jobs were raking leaves and shoveling snow, but it was his job as a busboy that was the first tipping point on his journey to manhood. As a busboy, he had the opportunity to actively listen to people's stories, understand their behaviors, and ask questions when things were unfamiliar, skills he has fine-tuned and which he finds extremely useful to this day.

Then one day at the age of 14, he vividly remembers a trip to the local convenience store to buy his first magazine with his earnings. It was an issue of Forbes that caught his eye. Reading it, he learned that many of the world's most successful people weren't born into wealth. This got him thinking. What would his recipe for success be?

Although he wasn't sure the answer at the time, looking back he says, "I went on a journey to get to know others in the hopes of getting to know myself."

The Count believes that the journey to the interior of oneself requires acknowledging all the stories that shape us, both the fulfilling and the painful ones.

Just a few years after the birth of his second child, another important event occurred that would change the course of his life; his beloved sister died after years of struggling with addiction. In a moment, it can be difficult to truly see when another person is struggling, even someone as close as his sister, the woman who was always there for him. Upon the shocking news, Dustin's heart sank, and he wondered what he could have done? Was there anything he could have done? The Count decided upon his new life's purpose; he would honor others by offering a safe space for them to tell their stories without judgement. He reasoned, if he could offer hope, people might hang on long enough to be guided to safety. And so, his first podcast was born, "Life's Tough: YOU Can Be TOUGHER!" hosted on his website lifestough.com.

As a podcast host, The Count has interviewed more than 100 of the world's leading experts, influencers, and inspirational leaders who share their own personal challenges and triumphs to help others find support and guidance in a turbulent world. Housed in the archives are stories from Evander Holyfield, Gene Simmons, Jerry Springer, Lou Ferrigno, John Tesh, Chef Lidia Bastianich, and the Founder of Reebok.

As a practiced listener, one of The Count's core tenets is to learn from wise men and wise women. He wants to know, after falling, how do they get back up? What fuels them? What are they learning today? These real-life stories of successful people overcoming obstacles give people the comfort of knowing that failure can spark triumph. As The Count is fond of saying, "Success leaves clues. And failure leaves even bigger ones."

In September 2021, 24 years after he purchased his first Forbes magazine, Dustin Plantholt was featured in the pages of Forbes Monaco, dubbing him "The Count of Monte Crypto" a title given to him, not only because of his undisputed knowledge of cryptocurrency, but because he can be counted on.

The Count advocates, "The purpose of life is to find your gift, to develop it and then to give it away."

After all, there is no greater legacy we could impart than to leave this world better than the way we found it.

To learn more about the The Count of Monte Crypto, check out his website at https://dustinplantholt.com.