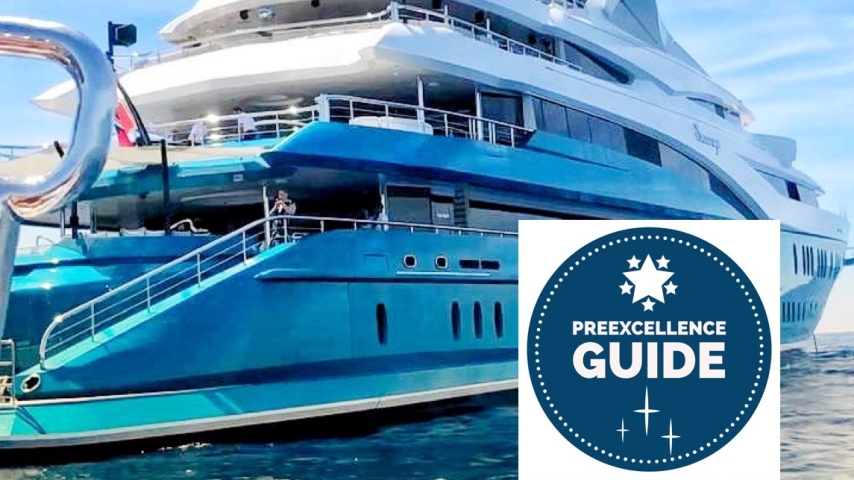 The 85.5-meter vessel, Sunrays, has just been awarded for the PALACE@sea recognition given by an independent commission that consists of eight highly qualified individuals. Each commission member's diversified experience across various industries has an advantage, as it brings a truly unbiased approach to assessments.
This exclusive label, which performs after an instruction phase an in-depth survey of facilities and services on board, has audited the elite charter down to the smallest details during 24 hour, from amenities and cuisine to staff performance.
Owned by Ravi Ruia, built by Oceanco in 2010 and refitted in 2018, Sunrays exterior was designed by Bjorn Johansson and features a teak deck, steel hull, and Aluminium superstructure. The elegant interior, with 9 staterooms, a spacious lounge, and a formal dining area, was curated by renowned designer Terence Disdale. The yacht can host 16 people and up to 28 crew members, one of which is Head Chef James Morris. A tailored menu is built to suit, and guests also enjoy an array of signature cocktails such as the Elderflower Collins, Italian Margarita, Fresh Ginger Mule. A welcoming team of stewards and staff are ready to meet any and every request, even at a moment's notice- they once organized an impromptu wedding ceremony party for 20 guest in under three hours. One of many remarkable amenities of Sunrays is its main VIP suite located on the owner's deck which boasts access to its very own sun deck and jacuzzi. Adjoined by another VIP suite and office with fold-down balconies, it can be used as a completely private living area. On the yacht's bridge deck, the ample lounge can be converted into a cinema, and guests can experience a full-service spa complete with a sauna, steam room, and hammam. Unique and exclusive to this magnificent charter is a separate billiard room with a gyroscopic pool table, a 21-foot chase boat, as well as an endless variety of watersports, among them Jet Surfing and Jet Skiing.
The label's main objective is to enhance the overall experience by creating a gold standard that can be measured through careful appraisal from the world's leading in hospitality. "Having set up the management of a large private palace on the riviera, I realized that there was no quality assessments label in the private sphere. Ultimately, in addition to providing customers with a guarantee to experience a rare and unique moment it will increase the high-class profile and value of those luxury yachts & estates who gain its recognition, as well as provide them with a competitive advantage in the industry." Gianni Angelini, the founder of PALACE@sea said.
According to the the label regulations available online on the preexcellence.com website the distinction is renew every 3 years but any change of chef, captain or manager during this period must be expressly notified.